Student Exhibition Examines Truman Home Economics History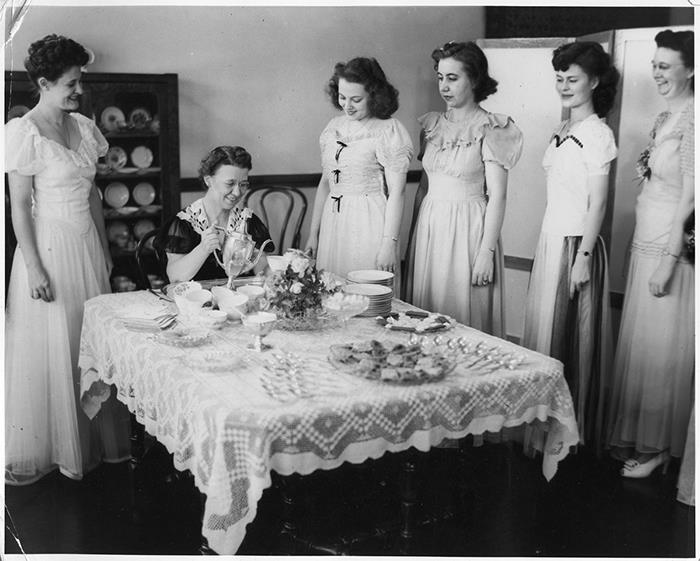 A tea party with Mrs. Buckingham in a Division of Home Economics' Home Management House, circa 1944-45. Photo courtesy of Pickler Memorial Library Special Collections and Museums.
During the spring semester, students in Interdisciplinary Studies 360 - Museums: Objects and Collections, led by Heidi Cook, assistant professor of art history, created an exhibition that highlights the teacup collection from Truman's former Division of Home Economics.
From the 1940s through the 1960s, graduating students of the Division of Home Economics at Northeast Missouri State Teachers College had the opportunity to donate a teacup and saucer to the home economics teacup collection. Each teacup and saucer were considered to reflect the uniqueness of each graduate of the program.
The current collection now located in Truman's archives contains 229 teacups, of which a selection is showcased in the exhibition. Most graduates of this program became home economics teachers in Missouri schools, and some pursued careers related to cooking and nutrition, family services or household products.
With assistance from Pickler Memorial Library Special Collections and Museums, students in the course selected teacups for the exhibition. They also researched the history of Truman's Division of Home Economics, the history of porcelain and porcelain companies, and even contacted home economics alumni to compile information for interpretative labels. The exhibition will be available in the Ruth W. Towne Museum until April 2022. This course is a part of Truman's museum studies minor.