Truman Forensics Takes Third at Debate Tournament at the Air Force Academy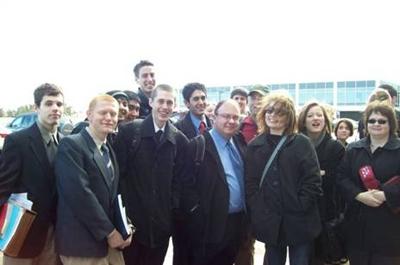 Truman debaters and coaches await security clearance to enter USAFA's Fairchild Hall.


Members of the Truman Forensic Union ranked third in debate sweepstakes and earned several other honors Feb. 8-10 at the 47th Annual USAFA Classic Speech and Debate Tournament at the United States Air Force Academy in Colorado Springs, Colo. Truman topped the performances of several prominent debate programs, including Rice University, Texas Tech University, Colorado College, the University of Wyoming, and the Air Force Academy to take home a coveted ceramic falcon award.
Barbara Gillard, a freshman political science major from Jackson, Mo., dominated the junior division of Lincoln-Douglas debate, going undefeated throughout the tournament. Her 6-0 preliminary round record was capped by a final round defeat of a debater from the Air Force Academy. This marks the second tournament in a row in which Gillard has won the Junior Lincoln-Douglas Division. She was also ranked third speaker in her division.
In parliamentary debate competition, open competitors Mark Buchheit, a sophomore history major from Carthage, Mo., and Dylan Rothermel, a senior economics major from Homewood, Ill., reached the octafinal round ("sweet 16") of the tournament before losing to a team from Western Kentucky University that would later reach semifinals. Sarah Backhaus, a freshman political science major from Liberty, Mo., was ranked 11th speaker in the division.
In the junior parliamentary division, Gillard and her "hybrid" partner from Metropolitan Community College-Longview, Calvin Anderson, reached the semifinals. Anderson was also seventh speaker in the division. He will be enrolling at Truman in the fall. Gillard and Anderson's partnership was part of an on-going effort to encourage collaboration, and eventual transfers, from the Metropolitan Community Colleges' only forensics program to Truman.
Truman Forensics is a co-curricular program of the Department of Communication. Students interested in participating can contact Kevin Minch, director of forensics, at 785.5677 or
kminch@truman.edu
.