Basic Life Support Course Offered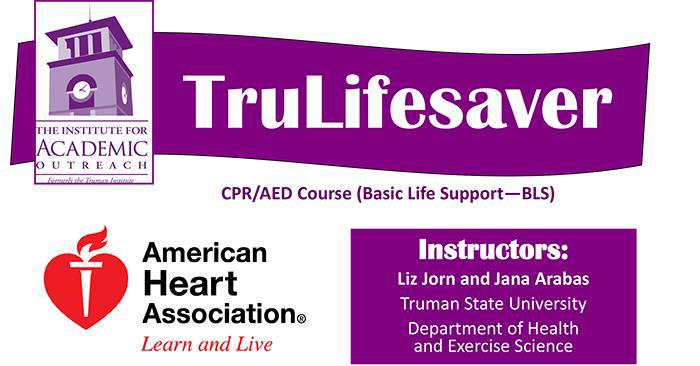 TruLifesaver program offers CPR certification to all members of the Truman and Kirksville communities. This course is designed to help recognize and respond to several life-threatening emergencies, provide CPR, use an AED and relieve choking. Upcoming session dates are as followed:
Feb. 23
5-10 p.m.
March 21
12-5 p.m.
April 6
5-10 p.m.
April 21
5-10 p.m.

April 22
5-10 p.m.
The $75 course cost covers instruction materials and a two-year certification with the American Heart Association. All sessions will take place in Health Science Building 120. Truman instructors Liz Jorn and Jana Arabas will oversee the course.
To register visit institute
truman.edu/trulifesaver
and complete the online registration form. For any questions contact the Truman Institute by phone at 660.785.5384 or email at
institute@truman.edu
.