Alumni Establish Scholarship for Forensics Students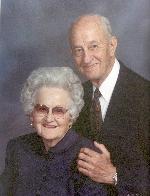 Amy (Ayres) Rosebery and Dean Rosebery

Dean and Amy (Ayres) Rosebery recently made a $25,000 gift to Truman to create the Amy Ayres Rosebery Debate Scholarship
Truman State University has announced that Dean and Amy (Ayres) Rosebery have established a scholarship to honor, recognize and perpetuate Amy's achievements as a former member of the University's debate team. The couple created the Amy (Ayres) Rosebery Debate Scholarship with a $25,000 gift made through the University's "Bright Minds Bright Futures" campaign, and the scholarship will be awarded to a high-performing forensics student at Truman.
Both Dean and Amy are Truman alumni who are active in University events, and the couple served as grand marshals for the 2007 Homecoming parade this past October.
A native of Atlanta, Mo., Amy graduated from Truman as valedictorian of her class in 1943 with a B.A. and B.S.E. in English. While attending the University, she was a top performer in oratory and debate contests at Truman in the early 1940s, and forensics continues to be one of the University's signature programs. Amy taught speech at the Kirksville Junior High School in 1945, and from 1946-48, she taught English at the Blacksburg, Va., High School. In 1949, Amy received an M.A. from Columbia University in New York.
Dean received his B.S.E. in biology from Truman in 1941 and attended graduate school at Virginia Tech. From 1942 to 1945 during World War II, he was a Naval lieutenant on a Destroyer Escort. After returning to Virginia Tech and receiving his Ph.D. in aquatic zoology, Dean served as assistant chief of the Division of Fish for the Virginia Commission of Game and Inland Fisheries. His position with Truman State University began in 1953, and he retired as professor emeritus of biology and head emeritus of the division of science in 1985.