Boeing Gifts $75,000 to Expand Math/Science Teacher Training Program at Truman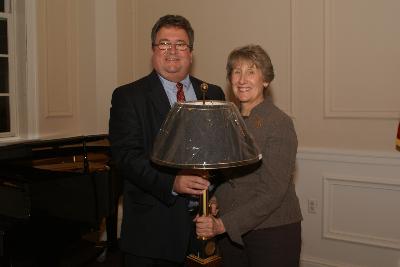 Randy Maier, educational relations manager for Boeing, (left) accepts a lamp from President Barbara Dixon (right) during the Foundation Banquet in April 2007. The Boeing Company received Truman's 2007 Distinguished Corporation/Foundation Award and is a substantial employer of Truman graduates.
The Boeing Company has partnered with Truman State University in a special initiative designed to increase the level of academic achievement in mathematics and science among Missouri high school students.
The Boeing Teacher-Scholars for Advanced Study in Mathematics and Sciences is a $75,000 scholarship fund that will provide special preparation for 40 teachers in Truman's Advanced Placement (AP) program.
Missouri teachers of mathematics and science, with focus in St. Louis schools, are eligible to participate in the program. Participants will be chosen by a team of Truman State University education professors and selected on the basis of interest and commitment to the program and the needs of the teachers' home school districts.
Boeing Teacher-Scholars will complete a weeklong program of study designed to powerfully prepare them to develop and implement Advanced Placement (AP) classes in their respective high schools.
Funds from the Boeing gift will cover tuition, travel and materials expenses for each participant. Upon completion of the training, teachers will devise a plan to offer at least one AP class in their school, and the new offering will be included in the school's curriculum.
"This significant gift from The Boeing Company will allow Truman to bring more AP offerings to students in the metropolitan St. Louis area," said Sam Minner, dean of the school of health sciences and education at Truman.
"This program will help improve mathematics and science education by providing teachers with high quality professional development and provide students with access to demanding classes. Students enrolled in AP classes are exposed to a rigorous and demanding curriculum and they often go on to enroll in even more advanced math and science classes in postsecondary education," Minner said. "The result is higher achievement and stronger national performance in math and sciences."
With the gift, The Boeing Company has become Truman State University's largest corporate donor, with more than $360,000 in cumulative gifts.
The company received Truman's 2007 Distinguished Corporation/Foundation Award and is a substantial employer of Truman graduates. Nearly 250 alumni are serving the company in areas such as finance and accounting, information technology, supplier management, procurement and software engineering.