McClaskey to Address December Graduates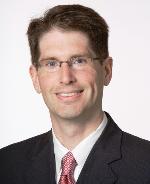 Mike McClaskey

Mike McClaskey will address students as the commencement speaker for the December graduation ceremony. Commencement will take place at 1:30 p.m. Dec. 15 in Pershing Arena. McClaskey has been recently appointed as senior vice president and chief information officer for EchoStar Communications, headquartered in Englewood, Colo.
EchoStar Communications is a publicly traded company with 21,000 employees and provides direct broadcast satellite television products to customers worldwide through its DISH Network TM. DISH Network is a single source for equipment distribution, sales, installation, service and programming.
McClaskey is concluding a 12-year career with Perot Systems in Plano, Texas, where he currently serves as vice president and chief information officer and also leads its internal IT operations, the Enterprise Quality & Standards team, and the Intellectual Property (IP) program. McClaskey's responsibilities included oversight of all improvements in productivity and standards across the entire global operation as well as demonstrating Perot Systems' unique capabilities to the market. He previously led the Infrastructure Solutions team, where he established business operations in India, Mexico and Romania, oversaw a significant expansion of the company's U.S. data center space in two states, and directed a global overhaul of the technologies used to support customers. He has worked in Europe, Asia and North America, and was named a Premier 100 IT Leader by
Computerworld
magazine.
McClaskey was also responsible for aligning the company's internal information technology environment and processes with business strategy across more than 130 locations in 15 countries. He has been instrumental in the integration of the company's global operations, and has led enterprise-wide initiatives in standardized ERP, CRM, customer satisfaction, knowledge management, and remote access solutions. Under his leadership, Perot Systems attained its highest-ever ranking in the 2005 Information Week 500 (No. 6 overall and No. 1 among IT companies) and underwent a significant transformation of back-office and front-office systems.
McClaskey, who grew up in Kirksville, has 20 years of experience in the information technology industry and previously held strategy, planning and operations management roles in several large academic networking and computing environments in his home state of Missouri. He earned a Master of Arts degree in English from the University of Missouri, and Bachelor of Arts and Bachelor of Science in Education degrees from Truman State University. McClaskey currently serves on the Truman State University Foundation Board of Directors and is a member of Truman's "Bright Minds Bright Future" campaign steering committee. He is married to Janet Yearns McClaskey who grew up in Queen City, Mo., and graduated from Truman in 1984. Both are members of the Dallas Alumni Chapter and the Truman Alumni Association.