Visiting Author to Give Tips for Success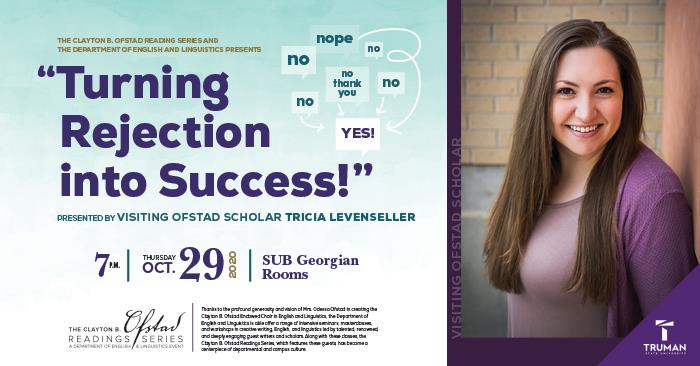 As part of the Ofstad Speaker Series, visiting scholar Tricia Levenseller will present "Turning Rejection into Success" at 7 p.m. Oct. 29 in the Student Union Building Georgian Rooms.
Authors receive hundreds of rejections before achieving a single "yes" on their road to publication. A bestselling and full-time author, Levenseller will recount her journey and the lessons learned along the way. She writes young adult high fantasies with heavy romantic subplots and is the author of the "Daughter of the Pirate King" duology, "Warrior of the Wild," "The Shadows Between Us" and the forthcoming "Blade of Secrets."
Levenseller will also answer publishing questions after her presentation.
Due to the generosity and vision of Odessa Ofstad in creating the Clayton B. Ofstad Endowed Chair in English and Linguistics, the Department of English and Linguistics is able to offer a range of intensive seminars, masterclasses and workshops in creative writing, English and linguistics led by guest writers and scholars. Along with these classes the Clayton B. Ofstad Reading Series has become a centerpiece of departmental and campus culture.