"A Doll's House, Part 2" to Run on the Quad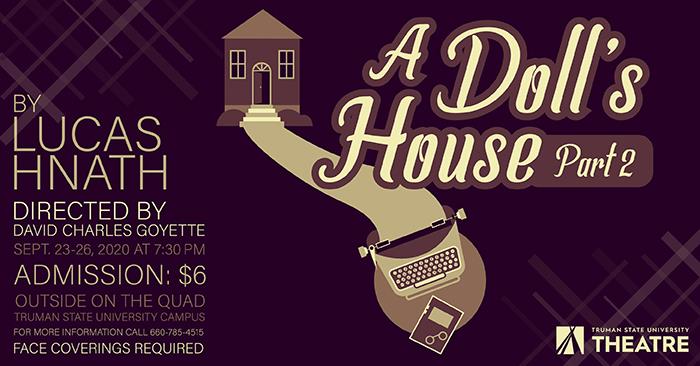 Tickets are now available for the first theatre production of the 2020-21 season.
"A Doll's House, Part 2" will run nightly at 7:30 p.m. Sept. 23-26 on the quad. The production is taking place outdoors in order to create a safe and socially distanced space for members of the audience. All attendees will be required to wear face masks.
In the final scene of Henrik Ibsen's 1879 groundbreaking masterwork, "A Doll's House," Nora Helmer makes the shocking decision to leave her husband and children to begin a life on her own. This climactic event – when Nora slams the door on everything in her life – is credited with propelling world drama into the modern age. In "A Doll's House, Part 2" many years have passed since Nora's exit. Now there is a knock on that same door. Nora has returned. But why, and what will it mean for those she left behind?
For this production, there are two different casts telling the story of "A Doll's House, Part 2." At the Sept. 23 and Sept. 25 performances, a group of actors dubbed the Nora Cast (Courtney Klein, Zac O'Keefe, Courtney Kopp and Faith Nagel) will perform, while at the Sept. 24 and Sept. 26 performances, a different group of actors dubbed the Torvald cast (Meredith Murphree, Kameron Boucher, Gael Jenks and Genesis Sanchez) will take the stage.
Tickets can be purchased online at
boxoffice.truman.edu
and right before the performance on the quad. General admission tickets are $6. Run time is 90 minutes. Due to language, discussion of mild violence and the use of stage blood, the production is not suitable for audience members less than 13 years old.