JBA Earns Praise for Virtual Efforts, Prepares for Next Year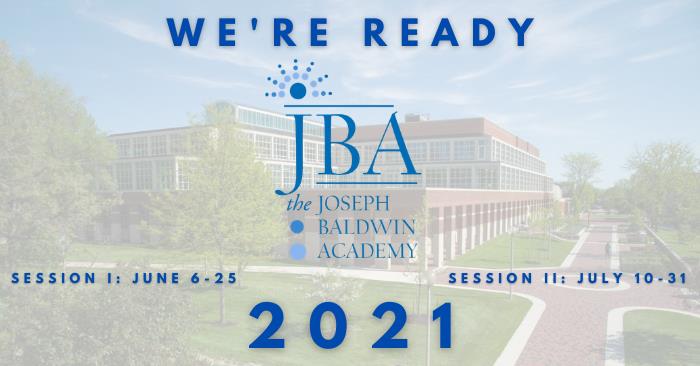 Joseph Baldwin Academy experienced its 35th successful summer, despite complications presented by the ongoing pandemic.
In April, The Institute for Academic Outreach decided to convert JBA to an online format, rather than outright cancelling as many other academies across the nation did.
Utilizing Zoom, Blackboard and Google, JBA hosted 82 students in four different classes, July 6-24. Students attended class in the mornings, and activities in the late afternoons. They also received a daily newsletter, the JBDaily, keeping them updated on events, guest speakers and activities. Students were able to interact with each other via Zoom, working on group projects, sharing interests and hobbies, and participating in Blackboard discussions.
Of the students responding to the end-of-academy survey, 90 percent ranked the quality of instruction by their professor as "excellent," with the rest ranking it as "good" or "very good." As expected from highly talented middle school students, they also provided insightful feedback on how the online academy could be improved, should the need arise in the future to return to an online version of JBA.
"This summer posed a lot of difficulties with very little time to prepare," said Jared Young, coordinator of summer academies. "Our faculty members and support staff managed to develop an engaging, enriching program the students enjoyed, and we are prepared to build on that, no matter what is in store for us next summer."
The Institute for Academic Outreach is already working on plans for all summer academies to return to campus in 2021. Nomination materials will be sent to schools next month. With much still unknown about what the next 12 months hold for education, the Institute is prepared to operate JBA in an online format again, if necessary. Regardless of circumstance, there will be JBA 2021. To promote the guarantee of a gifted summer academy for middle school students, the Institute is utilizing the tagline "We're Ready" in materials to be sent to schools and families.
In order to best serve the students who missed out on the opportunity to attend an on-campus academy during 2020, The Institute plans to automatically nominate every age-eligible student from last year's applicant pool to the 2021 academies.
Anyone interested in learning more about JBA, including information on nominations and the application process, can visit
jba.truman.edu
or contact the Institute at
tiacademies@truman.edu
or 660.785.5406.