Men's Basketball Earns Conference Championship Before NCAA Tournament Cancellation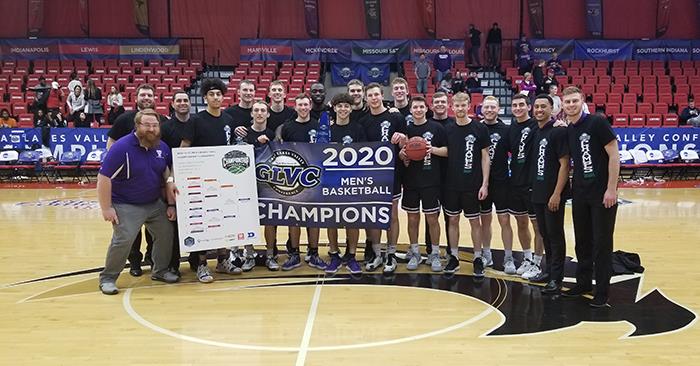 The men's basketball team won the GLVC tournament for the first time since joining the conference with a 53-52 win over Missouri-St. Louis, March 8.
This is the first conference tournament title since 1999, when they won as a member of the MIAA. Brodric Thomas led the way for the Bulldogs in the conference title game with 25 points and 10 rebounds.
By winning the conference tournament, the team received the automatic qualifying bid to the NCAA Division II Tournament. The Bulldogs earned the No. 2 seed in the Midwest Region and were set to take on Ferris State March 14 in Indianapolis before the NCAA cancelled all postseason play due to public health concerns related to the coronavirus.
The team won 23 games this season, including the postseason, which is the second-most in program history. The program record was set in 1998-99 when they won 26 games, making a run to the national semifinals.
Multiple Bulldogs earned honors throughout the season. Thomas was named GLVC Player of the Year. The senior guard from Bolingbrook, Ill., finished second in the conference in scoring with 20.9 points a game. He also was fourth in steals with 1.8 per game, eighth in rebounds with 6.9 per game and assists with 3.4 per game. Thomas passed multiple milestones including 1,000 points and 100 steals earlier this season. He moved into the top 10 in program history in points, blocks and assists this season.
Thomas was named conference player of the week four times, and was one of two unanimous selections. He made the All-GLVC first team and All-GLVC defensive team for the third-straight year. Thomas is the third Bulldog to win conference player of the year. He also earned first team All-Midwest Region honors.
Cade McKnight was named second team all-conference. The redshirt sophomore averaged 13.8 points per game in the 23 games he played, starting all 23. He also averaged 4.6 rebounds per game, dished out 43 assists and collected eight blocks.
Turner Scott was named the James R. Spalding Sportsmanship nominee for the Bulldogs.
The Bulldogs finished the season ranked No. 18 in the D2SIDA poll.