Kohlenberg Lyceum Series Presents Tonic Sol-fa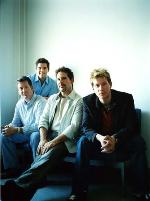 Tonic Sol-fa
7:30 p.m. • Sept. 25
Baldwin Auditorium
Tonic Sol-fa, a cappella quartet, has been awarded numerous original song and album awards in pop, gospel and holiday genres, appeared on NBC's "Today Show" and in the pages of Newsweek magazine. Outings with Jay Leno, Shawn Calvin, Lonestar and Garrison Keillor has propelled album sales to more than 1 million copies and has earned the group thousands of intensely loyal fans.
Seating is general admission. Admission is free for students, faculty and staff with their University ID. Students may pick up tickets at the Student Activities Board Office, third floor of the Student Union Building. Faculty and staff may pick up tickets at the Center for Student Involvement, third floor of the Student Union Building.
The University requests that all patrons be seated five minutes prior to the performance. The University reserves the right to fill all seats, reserved and general admission, five minutes before the time of performance stated on the ticket. No refunds will be given.
Contact the Public Relations Office at 785.4016 for more information or log on to
http://lyceum.truman.edu
.