The Kerr Foundation Inc. Contributes $10,000 to Truman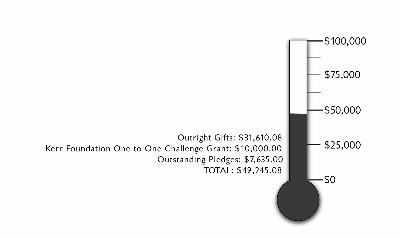 The Kerr Foundation Inc. of Oklahoma City, Okla., recently contributed $10,000 to the Truman State University Foundation in support of the Health and Exercise Sciences (HES) Fontaine C. Piper Movement Analysis Laboratory project. The gift was made after the University successfully met the conditions of The Kerr Foundation's 1:1 challenge grant.
The challenge grant was instrumental in helping the University secure more than $18,000 in contributions from HES alumni and friends. When fully funded, the Fontaine C. Piper Movement Analaysis Laboratory will be the leading motion analysis laboratory in the Midwest. The laboratory's equipment will provide Truman students with cutting-edge technology and experiences and will play a significant role in expanding the depth and breadth of research questions available for exploration.
"We are confident that these experiences and opportunities for research will lay a strong foundation for students who wish to pursue careers in the human-services professions, including medicine, physical and occupational therapy, and geriatrics," said Chris Lantz, associate professor of exercise science and department chair of health and exercise sciences at Truman.
The Piper Lab Project recently concluded year one of a three-year fund-raising effort for the project. The gift from The Kerr Foundation pushes the projects total to more than $50,000 toward the overall goal of $100,000.