Forensics Earns Multiple Championships at UCM Tournament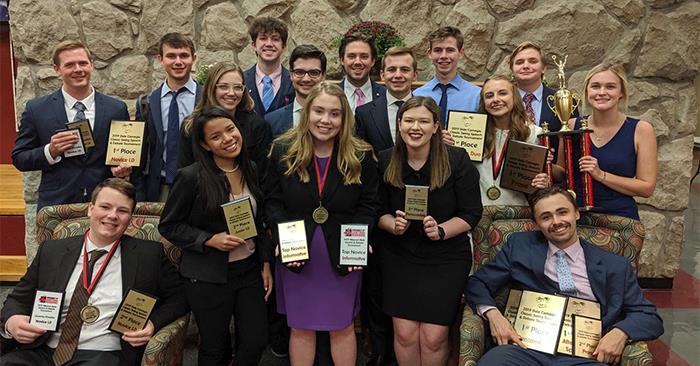 Truman's forensic union competed at the annual Missouri Mule and Dale Carnegie Swing tournament hosted by the University of Central Missouri, Oct. 19 and 20, earning nine new national qualifications and multiple sweepstakes awards.
In individual event speaking, senior Austin Sopko kicked off a successful weekend by earning a tournament championship in afterdinner speaking, second place in impromptu speaking and fourth place in duo interpretation with junior Audrey Baker. Sopko's high ranks in multiple events earned him third place in pentathalon, a sweepstakes award for students competing in at least five different speaking categories. Baker also reached finals in prose interpretation, finishing third. First-year Maya Krump earned a top novice award in informative speaking.
On the second day of competition, Sopko accomplished the rare feat of earning back-to-back championships in an event with another win in afterdinner speaking. Sopko also earned a second championship by placing first in duo interpretation with Baker. Baker picked up her own championship as well, winning prose interpretation. All three of these tournament championships were based on unanimous decisions by the judging panels.
The success did not stop there as Sopko earned second place in prose interpretation to Baker, and Baker earned fourth place in persuasive speaking. Sopko's consistent success paid off, earning him a tournament championship in pentathalon, his fourth championship of the weekend. Senior Rebecca Walker earned third place in persuasive speaking and Krump placed fifth in informative speaking, earning her second top novice trophy for the event.
The first day of debate saw six debaters advance to elimination rounds. First-year Gabe Smith dominated the junior varsity (JV) division, earning a tournament championship in Lincoln-Douglas (LD) debate with a perfect preliminary round record. First-year Zach Evans also reached elimination rounds in the JV division, finishing as a semifinalist. Sophomore Michael Garrett and first-year Johnny Blocker finished as quarterfinalist in the JV division. Garrett also earned the award for fourth best speaker in the division and Evans took second. In the novice division, first-year Jacob Tourville reached the semi-final round and first-year Alec Cochran earned a quarterfinalist ranking.
The second day of debate saw Cochran and Tourville both reach the final round of the novice division in LD, resulting in their co-championship. Both had perfect records in preliminary rounds. Cochran also earned the award for fourth best speaker in the division and Tourville earned third best speaker. In the JV division, first-year Zoie Francisco advanced to the final round and finished in second place in LD.
After totaling the scores for the whole weekend, the team earned third in individual events sweepstakes, second in debate sweepstakes overall and second in overall combined speech and debate sweepstakes.
The team will travel next to the Redbird Swing Nov. 2 and 3, hosted by Illinois State University. For more information on how to get involved, visit
forensics.truman.edu
or contact
Christopher Outzen
, director of forensics or
Craig Hennigan
, assistant director of forensics.