Truman's United Way Campaign Receives More Than $34,000 in Contributions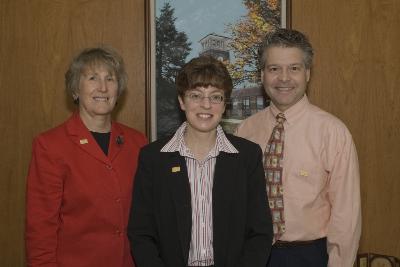 University President Barbara Dixon (left) meets with Truman's United Way co-chairs Teri Heckert (center) and Brad Chambers (right).
After the second week of Truman's United Way campaign, the faculty, staff and students have contributed more than $34,000, which means Truman has met 60 percent of the goal.
Thank you to everyone who has contributed to this effort. For those people who have not returned their pledge forms, there is still time to do so. Because Truman was a pace setter organization, the campaign started earlier this year. People who prefer to make a donation at the end of the month can do so. Also, if you have misplaced your pledge form and are in need of a replacement, contact Teri Heckert at
theckert@truman.edu
or Brad Chambers at
bchamber@truman.edu
.