Missouri Government Internship Program Informational Meeting to Take Place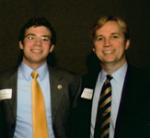 Missouri Government intern Joe Van Amburg (left) stands with Rep. Jeff Harris (right) during the spring 2007 legislative session.
An informational meeting about the Missouri Government Internship Program will take place at 5:30 p.m. Sept. 26 in Student Union Building Georgian Room B. Pizza will be provided.
The Missouri Government Internship Program offers a unique opportunity for students to intern at the Capitol in Jefferson City, Mo., with a public official, legislator or state agency during the spring 2008 semester. The internship, which is open to all majors, provides an inside look at state government.
Joe Van Amburg, a 2007 legislative intern for House Minority Leader Jeff Harris, said that the internship was one of the best experiences he has had since being at Truman.
"Representative Harris and his staff were fun to work with and they taught me a lot about state government and politics, as well as life in general," Van Amburg said. "I learned more about myself this semester than any prior semester at Truman."
The interns live in Jefferson City and receive a stipend of $2,500. Interns may earn up to 15 hours of credit.
All juniors and seniors are encouraged to apply. Applications are available online at
http://career.truman.edu/student/internship/mogov_app.pdf
.
For priority consideration, completed applications are due by Oct. 10 in McClain Hall 101. A selection committee will review the applications and interviews will be conducted Oct. 17 for the spring 2008 legislative internships.
Interested students can contact Candy Young at 785.4650 or Heidi Templeton at 785.4016 for more information.