Library Catalog has a New Look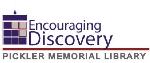 The Pickler Memorial Library Catalog was recently upgraded, improving its display features and searching capabilities.
The new display streamlines search results, allowing users to view availability of materials at a glance. Other features include new ranking capabilities, spell check and more. Check it out today.
Contact the Reference Desk at 785.4051 for more information.