Students Receive Academic Honor Awards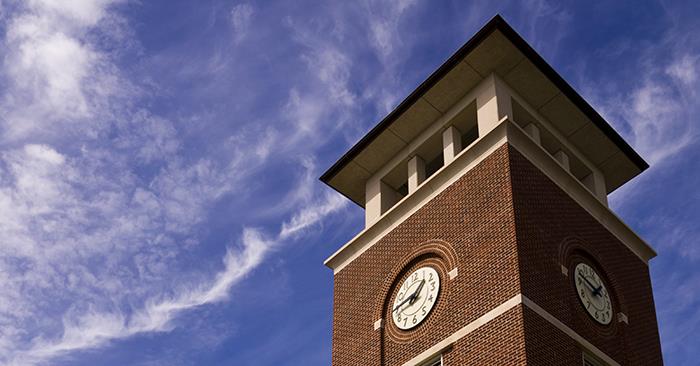 The annual Academic Honor Awards recognizes outstanding students who have dedicated time, energy and talent to their academic achievements.

This year's ceremony will take place at 5 p.m. May 10 in the Student Union Building Georgian Rooms. Alumna Bonnie Kuebler ('87) will give the keynote address. As a student, Kuebler was president of Student Senate and Phi Alpha Theta History Honor Society, a member of the Student Activities Board and Historical Society, a Latin tutor for the Joseph Baldwin Academy and the student representative on the Faculty Senate. As a senior, she received departmental honors as the outstanding student in history.

Kuebler earned her law degree from the University of Missouri-Columbia. In her career with State Farm Insurance Companies she has had several positions in Missouri and Illinois including her current role as executive succession analyst at the corporate headquarters in Bloomington, Ill.

As an alumna, Kuebler has continued to stay involved with Truman, serving as president of the Alumni Association Board of Directors, a member of the Foundation Board and a member of the St. Louis Alumni Chapter. She and her husband, Kevin, sponsor three scholarships for Truman students, and both of their children attended the University.


Below is a list of students who were awarded academic honors.
Outstanding Undergraduate Student in Art
Ashley Murphy

Outstanding Undergraduate Student in Art History
Tia Frey
Outstanding Undergraduate Student in Art: Visual Communication
Anna Pavan
Outstanding Undergraduate Student in Classics
Joseph Slama
Outstanding Undergraduate Student in Creative Writing
Aura Martin

Outstanding Undergraduate Student in English
Allie Wills

Outstanding Undergraduate Student in French
Ellen Morgan

Outstanding Undergraduate Student in German
Greg Sheets

Outstanding Undergraduate Student in Linguistics
Molly Thal
Outstanding Undergraduate Student in Music: General
Kathleen Morgan

Outstanding Undergraduate Student in Music: Performance
Alexander Lynn

Outstanding Undergraduate Student in Music: Pre-Certification
Elizabeth Runyon

Outstanding Undergraduate Student in Russian
Makar Golosheykin

Outstanding Undergraduate Student in Spanish
Alexia Adeshakin
Outstanding Undergraduate Student in Theatre
Joel Wilper
Outstanding Undergraduate Student in Accounting
Abigail Lee
Outstanding Undergraduate Student in Business Administration: Finance
John Kusmec
Outstanding Undergraduate Student in Business Administration: International Business
Owen Carlson

Outstanding Undergraduate Student in Business Administration: Management
Haley Meissen
Business Administration: Marketing
Rebekka Brown

Outstanding Undergraduate Student in Athletic Training
Mackenzie Snyder
Outstanding Undergraduate Student in Communication Disorders
Valerie Hagedom

Outstanding Undergraduate Student in Exercise Science
Michaela Mooney
Outstanding Undergraduate Student in Health Science
Anne Fitzgerald
Outstanding Undergraduate Student in Nursing
Madeline Fitzgerald
Outstanding Undergraduate Student in Agricultural Science
Emiline Sundman

Outstanding Undergraduate Student in Biology
Harper Euwer

Outstanding Undergraduate Student in Chemistry
Dorian Sneddon

Outstanding Undergraduate Student in Computer Science
Kelsey Lieberman

Outstanding Undergraduate Student in Mathematics
Nils Palumbo
Outstanding Undergraduate Student in Physics
Tatsuya Akiba

Outstanding Undergraduate Student in Statistics
Grant Wallace
Outstanding Undergraduate Student in Anthropology
Anthony Scimeca
Outstanding Undergraduate Student in Communication: Communication Studies
Ashleigh McDonald

Outstanding Undergraduate Student in Communication: Journalism
Brently (Probasco) Snead

Outstanding Undergraduate Student in Communication: Public Communication
Morgan VanVleck
Outstanding Undergraduate Student in Economics
Nguyen Luong
Outstanding Undergraduate Student in History
Anne Morgan

Outstanding Undergraduate Student in Justice Systems
Taylor Koper
Outstanding Undergraduate Student in Political Science
Heather Kopp

Outstanding Undergraduate Student in Psychology
Grant Wallace

Outstanding Undergraduate Student in Psychology
Crystal Tracy

Outstanding Undergraduate Student in Sociology
Lucas Dowdall
Outstanding Undergraduate Student in Interdisciplinary Studies
Josie Emery
Outstanding Graduate Student in English
Alan Smith
Outstanding Graduate Student in Accounting
Tim Hudson
Outstanding Graduate Student in Communication Disorders
Sienne Pace
Outstanding Graduate Student in Education/Elementary
Rachel Reckamp

Outstanding Graduate Student in Education/Foreign Language
Rachel Flynn

Outstanding Graduate Student in Education/Math
Matthew Matheney
Outstanding Graduate Student in Education/Special Education
Bailey Eames

Outstanding Graduate Student in Leadership
Jordan Smith