Friends of the Art Gallery Celebrate 20th Anniversary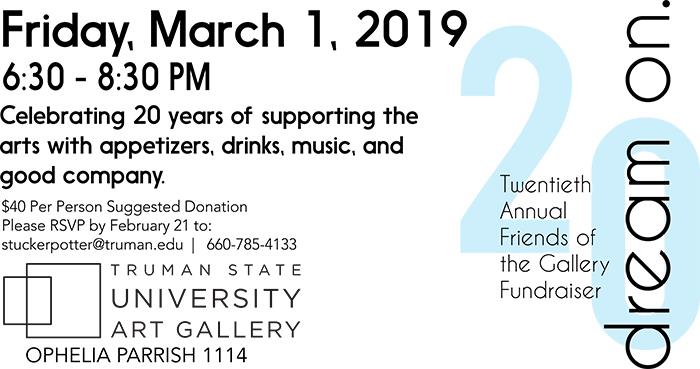 The Friends of the Truman State University Art Gallery will host their 20th annual fundraiser from 6:30-8:30 p.m. March 1 in Ophelia Parrish 1114.
For two decades the fundraiser has been committed to the belief that art changes lives, documents and reflects experiences and shows people worlds and other perspectives than their own. The fundraising committee wants to continue to "dream on" about the ways in which the Art Gallery can share new experiences with the campus, Kirksville and Northeast Missouri communities for the next 20 years.
Donations to the University Art Gallery help provide financial stability and allow for expanded programming that increases the Gallery's reach into the community. Previous donations to the University Art Galley have helped fund transportation costs for local students to visit the University Art Gallery, new energy-efficient LED light bulbs for the main gallery, cash prizes for the annual student-juried show and shipping for the loaned Australian Aboriginal Art from the Kluge-Ruhe collection. The suggested donation for the fundraiser is $40 per person. Reservations must be submitted by Feb. 21 to
stuckerpotter@truman.edu
.
The "Dream On" theme also connects to the current exhibitions. "Dreamwork," in the main gallery, features the work of four alumni ceramic artists whose art addresses the work the mind undertakes when creating memories, fantasizing, meditating and dreaming. In the side gallery, the exhibition "Aboriginal Desert Paintings" pulls from Australian Aboriginal dreaming –– knowledge, myths and legends that are passed down from generation to generation and define Aboriginal relationships to family, heritage, indigenous country and nature.