Students Take Part in Act! Speak! Build! Week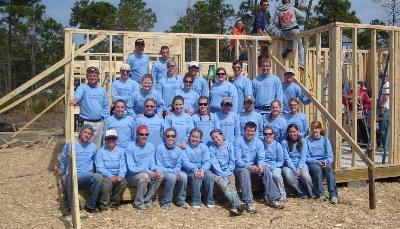 Members of Truman's Habitat for Humanity chapter pose at the construction site of a home they are helping to build.
Students will participate in a weeklong advocacy campaign during Habitat for Humanity's Act! Speak! Build! Week 2007 April 16-22. This year's theme is "What a Difference a Home Makes."
The purpose of the week is to highlight the need to eliminate substandard housing and to create affordable housing opportunities.
Truman's Habitat chapter will be on the Quadrangle April 17-19 passing out statistics on poverty and selling T-shirts.
The chapter will also be hosting Maria Pyra, a youth program consultant from Habitat for Humanity International. She will speak at 8 p.m. April 19 in Magruder Hall 1090. Pyra will be accompanied by Truman Habitat members who will be talking about their experiences volunteering in South Carolina during midterm break.
The Truman chapter of Habitat for Humanity works with the local Kirksville chapter to build and refurbish housing for low income members of the community. The chapter is primarily concerned with increasing awareness about the needs of the community, fund raising, and providing free labor at the building projects.
Contact Jessica Lufkin at
jlufkin@truman.edu
or visit
http://habitat.truman.edu
for more information.