Students, Faculty and Alumni Connect at Missouri Folklore Society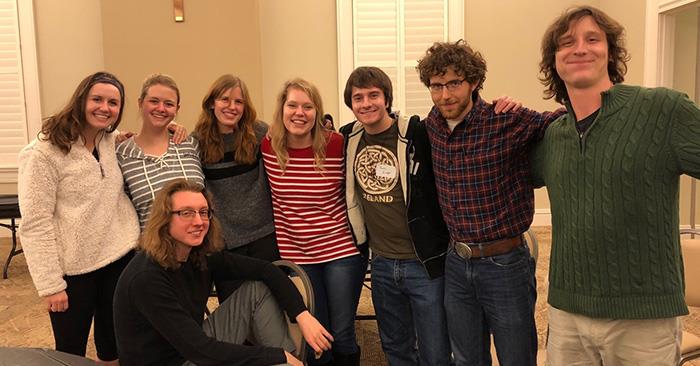 The Missouri Folklore Society conducted its annual meeting in Washington, Mo., Nov. 1-3, organized by English alumnae Meredith Heist Rau and Annie Fuller.
Presentations by current Truman undergraduates included "A Comparative Analysis Between Personal Political Narratives and Religious Conversion" by Christian Hatala, English; "Bonfire Legends as Told by Stan Westhoff" by Elizabeth Westhoff, English; and "Consumption and Appetite: A Look at Gender and Mortality in Myth" by Sophie Pressler, English. Each student is also completing the folklore minor.
Two current graduate students in English also spoke. Rowen Conry presented "Malls, Dead and Dying: An Autopsy of Mall Culture" and Sarah Muir presented "Kirksville Gothic."
Recent Truman alumni Scott Campbell, Phillip Dryden and Austin Krueger made appearances as well.
Campbell, an English major, presented "An Identification of Socially-Constructed Luck Rituals in Magic the Gathering and their Transference."
Dryden, a biology and English major, presented an application of ecological niche theory to geographic distribution of constituent structures in myth, "Brother May I Have Some Memes?"
Lastly, "Walt Disney and Marceline: The Story Behind the Original Main Street, USA" was presented by Krueger, an English major.
Dryden and Krueger completed the Folklore minor last spring. Alumnus Patrick McGlasson, a history major now studying law at the University of Illinois, appeared in a panel discussion on balladry scholarship.
Truman faculty presenters included Marc Rice, professor of music, who premiered his forthcoming book "Black Music in the Black Press: An Anthology of Essays from the Heartland." Adam Davis, professor of English, presented in character on Sam Clemens' creation of his stage persona, Mark Twain. Davis also appeared in a roundtable discussion of folklore pedagogy. Barbara Price, professor of English, organized a presentation of folk toys produced by Homer and Mary McCollum.
Next year's meeting will take place in Marshall, Mo., Oct. 10-12, led by Price, the incoming Society president.