Notables
Curtis R. Blakely
,
associate professor of justice systems
, completed work on a project for the United Nations to assess the conditions of prisons in France and Belgium. Blakely was selected for this project due to the worldwide acclaim afforded his recent co-authored book with his wife, Dr. Michelle Blakely, University of Wyoming, and for his efforts as managing editor of the International Journal of Criminal Justice Sciences.
Jerrold Hirsch
,
professor emeritus of history
, reviewed, Bruce M, Conforth, "African American Folksong and American Cultural Politics: The Lawrence Gellert Story" in the Journal of Folklore Research and Reviews.
Peter Ramberg
,
professor of history of science
, organized a session on "Chemistry and the 'Big Picture' narratives in the History of Science" at the recent meeting of the History of Science Society in Seattle. At the session, he presented a paper on "Chemistry as part of 'Grand Narratives' in History of Science." The paper noted the overall lack of inclusion of chemistry in history of science textbooks, suggested some reasons for this neglect and offered some ways in which the history of chemistry can enhance the understanding of the historical development of science.
Volleyball players
Savvy Hughes
, setter, and
Ellie Kaat
, outside hitter, were both named Second-Team All-GLVC as voted by the conference's coaches and announced by the league office, Nov. 7. Hughes is a two-time Second-Team All-GLVC honoree, is third in school history for assists per set in a career (9.63) and fifth in total assists (3,430) despite playing just three seasons in the purple and white. Switching from the middle to the outside, Kaat led the 2018 squad in points (410), points per set (4.18), kills (365), kills per set (3.72) and attempts (1,021) as a true sophomore. Lastly, one athlete from each of the league's 14 teams was named a James R. Spalding Sportsmanship Award nominee and Hughes was chosen as Truman's honoree for the second-straight season. The student-athletes chosen for that honor are individuals who have distinguished themselves through sportsmanship and ethical behavior.
Students and staff from Truman attended the MACURH Regional Leadership Conference in Rolla, Mo., Nov. 2-4. The conference is focused on allowing students to develop leadership skills and connect with other student leaders from around the Midwest. Members of Truman's delegation were:
Jordan Gregory
,
Gloria Farmer
,
Carrie Kucharski
,
Sammy Garrett
,
Pearl Elliott
,
Jake Elieff
,
Sam Edues
,
Taylor Branson
,
Cole Keiper
,
Erin Darr
,
Mary Smreker-Bruce
and
Megan Swingle
. While at the conference members of the delegation were honored with the following awards: Most Spirited Delegation, 10 Ten Program (Garrett and Elieff), Three Year Service Pin (Darr, Garrett, Edeus and Carrie Kucharski), Returning Delegate Case Study Winner (Gregory, Garrett and Kucharski) and New Delegate Case Study Winner (Edeus and Farmer).
Seven Truman woodwind students recently competed at the Missouri Music Teachers Association Conference that took place in Columbia, Mo., Nov. 1-2. Each performed three contrasting solos, which were evaluated by judges who provided written comments. Senior
Donald Rabin
, flute, was the only undergraduate to compete in the prestigious national competition (MTNA Young Artist) and received second place. In the statewide collegiate woodwind competition (MMTA), graduate student
Alanna Benoit
, clarinet, received runner up in the Graduate Division. Junior
Anna Graves
, clarinet, won the MMTA Upper Division competition, and senior
Chris Ramey
, saxophone, received runner up. In the MMTA Lower Division competition, sophomore
Brianna Combs
, clarinet, received runner up, while sophomores
Holly Peters
, clarinet, and
Tori Tyler
, clarinet, were awarded honorable mention.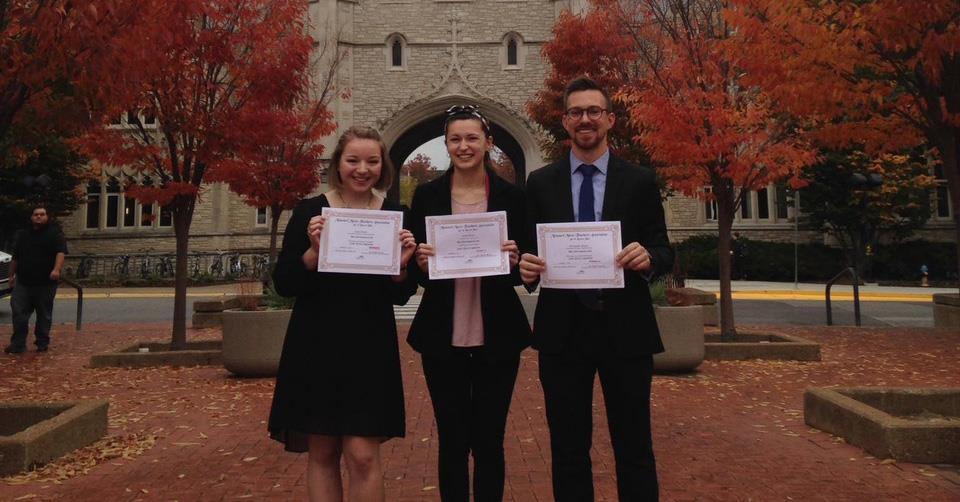 Anna Graves (left), Alanna Benoit and Chris Ramey pictured with their awards.