Homecoming Banquet Celebrates Alumni
Homecoming honorees Ray Armstead, Phillip Campbell, Doug Villhard and Naomal "Vid" Vidyasagara
Several Truman alumni will be recognized at the Bulldog Forever Celebration Banquet at 6 p.m. Oct. 12 in the Student Union Building Georgian Room as part of Homecoming 2018.
In addition to the following honorees, banquet ceremonies will also include recognition of the
Alumni Chapter of the Year and the Golden Alumni
. For more information on the alumni being highlighted during the banquet, visit the Homecoming Honorees
website
.
Homecoming Parade Grand Marshall
Ray "Ricky" Armstead
('85)
Armstead was born in St. Louis, Mo., May 27, 1960. "A Maker of Dreams," he hurdled his athletic ability from a basketball player to a relay track star. Armstead's dash began in St. Louis public schools where he was champion in the high jump and the 400-yard dash. Armstead earned a Bachelor of Arts degree in 1984 in commercial arts and advertising. His speed continued as he earned a Master of Business Administration degree in 1993 from Fontbonne University as well as an art K-12 certification from the University of Missouri-St. Louis in 2011. He ranked in both the world's and the United States' top 10 in the 400 meters for two years, was a gold medalist at the World Cup in the 4 x 400-meter relay in Australia in 1985 and an Olympic gold medalist in the 4 x 400-meter relay in the Los Angeles Summer Games in 1984. Armstead illuminates the community by sharing his triumphant experience as an Olympian. He has spoken at the Missouri House of Representatives; St. Louis Post Dispatch Scholar Athlete Banquet; Achievement Week Banquet for Omega Psi Phi Fraternity, Inc.; Beta Gamma Gamma Chapter; Transitional Fair for Disabled Children (sponsored by Missouri Advocates); Fontbonne University Founder's Day banquet; Ritenour School District Leadership Conference; and Blue-Cross Blue Shield Anti-Alcohol Scholarship Awards Dinner, just to name a few. Armstead's honors have included: The Distinguished Community Service Award; induction in the St. Louis and Missouri halls of fame; induction in the NCAA Track and Field Division II Hall of Fame; induction in the Truman State University Athletic Hall of Fame; nomination for Outstanding First-Year Teacher in the Hazelwood School District; and Emerson Teaching in Excellence Award in the Hazelwood School District.
Bulldog Forever Volunteer of the Year
Phillip Campbell
('06)
Campbell was inspired and influenced by his time at Truman to become a higher education professional. Currently, he serves as manager of admissions and enrollment services at the Meramec campus of St. Louis Community College. Prior to this role, he worked at Southern Illinois University in Carbondale in a variety of positions within New Student Programs and as a first-year adviser at Miami University in Oxford, Ohio. Campbell has served on the executive board of the St. Louis Chapter of the Truman Alumni Association, most recently as secretary. He holds a Bachelor of Arts degree in sociology/anthropology. He also has a Master of Science degree in education from the University of Wisconsin-La Crosse. As a Bulldog, Campbell held leadership positions in Residence Life and Blue Key Honor Society, among many other organizations.
Distinguished Service Award
Doug Villhard
('94)
Villhard is a successful St. Louis entrepreneur, founder, investor and philanthropist who actively manages, invests and serves on the boards of for-profit companies and nonprofit organizations. Villhard has offered his passion and skills as an "entrepreneurial thinker" to Truman in recent years by founding the Bulldog B.I.T.E. Business Pitch Competition, encouraging a continual commitment to innovation while serving on the President's Advisory Council and teaching a new course this spring entitled "The Art (and Science) of Entrepreneurial Thinking," which includes a field trip for students to visit the local startup community in St. Louis. In his college days, Villhard was the first inductee to Truman's Student Hall of Fame. His accomplishments as a student included being selected to serve on the Student Activities Board, elected to the executive council of Lambda Chi Alpha, selected as chairman of Greek Week, working as a weekly columnist for the Index, being hired as executive producer of the student-run television station, serving as a student ambassador and being voted the Journalism Student of the Year by faculty in 1994. He met his wife Diane ('95) at Truman during this time as well. In 1995, Villhard started his career at Disney at the dawn of the Internet age. He took those skills and has since started and sold several technology companies, including MaxPreps.com (a high school sports site now owned by CBS). Villhard is currently the co-founder and CEO of Second Street whose "Engagement Platform" (contests, promotions, interactive content and email) is licensed by more than 3,000 media companies across the United States, including ESPN, Sports Illustrated, USA Today, FOX, CBS and Disney. In recent years, Villhard founded a private equity firm, Villhard Growth Partners, through which to acquire technology and media companies including Digital Dental, and he is a recent investor in St. Louis Magazine. In addition to his undergraduate communication degree at Truman, Villhard has a master's degree from Boston University and an MBA from Washington University in St. Louis. The Villhard's live in the St. Louis area with their four children. They are proud to have given back to their local community by founding Father McGivney Catholic High School, which is now in its seventh year and has graduated three classes of seniors with generations more to follow.
Naomal "Vid" Vidyasagara
('92)
Vidyasagara works as an IT manager, specializing in cyber security, at Honeywell. He earned a Bachelor of Science degree in computer science from Truman and attended the University of Illinois in Champaign-Urbana, where he obtained a Master of Business Administration. While at Truman, Vidyasagara represented Israel, Cote d'Ivoire and Iran as a member of Truman's three winning U.N. delegations at the Midwest Model United Nations. He was president of the International Club, elected to the Student Senate to represent the class of graduating seniors, a resident advisor in Missouri Hall and also worked for the University's Upward Bound program as an academic counselor and mathematics tutor. After serving a six-year term on Truman's Alumni Board, Vidyasagara remains an advocate of the University as the president of the Arizona Alumni Chapter. He met his wife Pasanthi at Truman, and they now reside in Phoenix.
Young Alumnus of the Year
Derek
('04)
and Kelli (Floyd) Kent
('05)
Derek graduated in 2004 with a degree in business marketing and management and a minor in economics. While a student, he was a member of Delta Sigma Pi business fraternity and the captain of the football team. A defensive back, he was all-MIAA three times and is currently second on the Truman all-time tackles list. He was also a Homecoming court candidate his senior year, won Big Man on Campus in 2003 and showed his lighter side serving as the mascot Spike during basketball games. Kelli, a 2005 biology graduate, was on the women's basketball team, starting for three years as point guard and serving as co-captain for three years. Both Derek and Kelli were on the Student-Athlete Advisory Committee. They were married in 2005 and currently live in Columbia, Mo. Derek has had a successful career in medical sales since graduating from Truman. Kelli spent four years as an assistant varsity girls' basketball coach at Father Tolton Catholic High School before moving to the youth level. Kelli has been a stay-at-home mom since 2009. She and her sister, Jackie Floyd ('07), began opening Smoothie King franchises in 2015, and Kelli has worked part time in that business ever since. Kelli and her family have opened eight Smoothie King locations across three states since 2015. Kelli and Derek are both active in their community and church. They serve as youth sports coaches and teach classes at their church a couple times each month.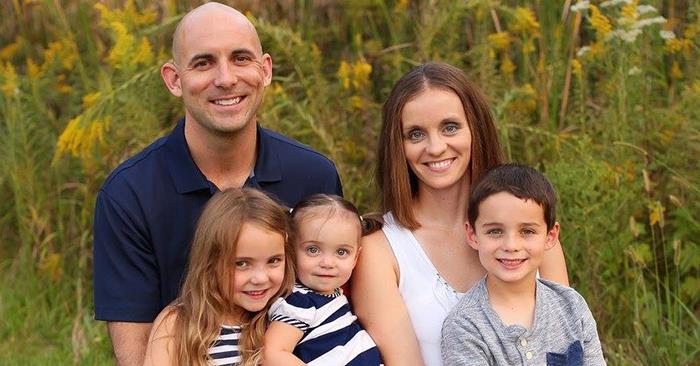 Derek and Kelli Kent and children Kaelyn, Claire and Joshua

Alumni of the YearDick
('49)
and Edie (Ford) Erzen
('49)
Both Dick and Edie are deeply committed to life-long learning and supporting education. Dick was inducted to the Truman Athletic Hall of Fame in 1995 for his skills on the court as a "super-sub" on two basketball teams that posted a cumulative record of 59-4. Dick was a member of the "K" Club, Blue Key, Sigma Zeta, Kappa Delta Pi and Student Council. He first spent his career as a teacher and then as a high school administrator. Later, he served as dean at Illinois Valley Community College, a visiting professor at Illinois State University and as president of the College of Lake Country in Grayslake, Ill. Edie received her Bachelor of Science in education degree from Truman in 1949. She was a cheerleader, member of Sigma Sigma Sigma, Cardinal Key and Student Council. She was also selected as the Carnival Queen in 1948. Edie is a passionate quilter and a member of the Land of Lincoln Quilting Hall of Fame. Dick and Edie are members of the John K. Kirk Society and attend many events on campus.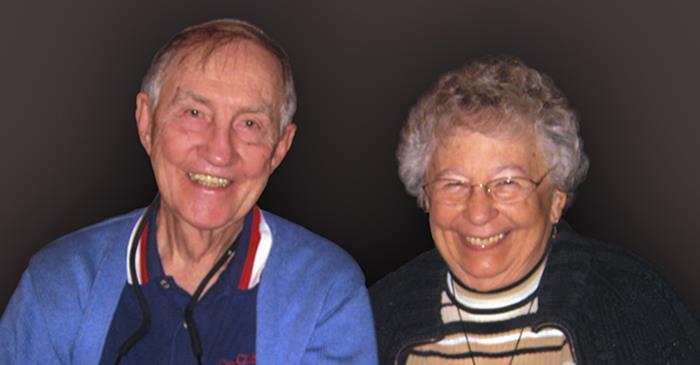 Dick and Edie Erzen