Awards Presented to Truman Staff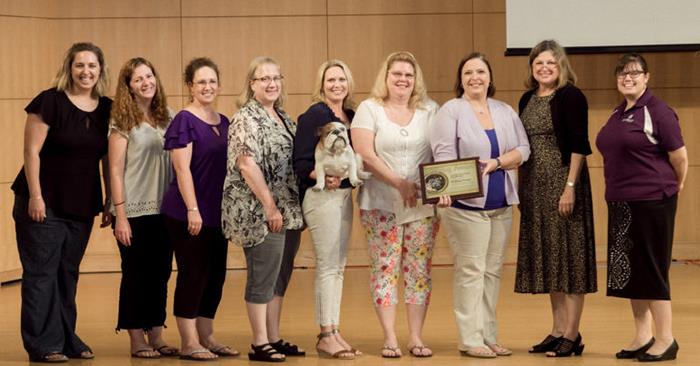 Representatives of the Communication Disorders Department accept the Bulldog Award during the Fall Opening Assembly.
During the Fall Opening Assembly several staff members were recognized.
The Bulldog Award is a yearly honor that recognizes "shared team achievement" for outstanding customer service practices. Truman's success depends on employees and departments who have demonstrated exceptional customer service to individuals within and/or outside the University. Faculty and staff nominate a department based on exceptional service efforts that exemplify the community spirit of the University. At the assembly, the
Bulldog Award
was presented to the Communication Disorders program and the Institute for Academic Outreach.
The Communication Disorders Department received the Bulldog Award for a variety of reasons. For example, the Truman Speech and Hearing Clinic provides year-round services to the University, community and public. Student clinicians and faculty from Truman's Communication Disorders program provide speech, language, and hearing screening, assessment and treatment services through the clinic. The student clinicians work under the direct supervision of faculty. Because such services are scarce in northeast Missouri, the clinic draws clients from a 100-mile radius, typically serving more than 1,000 people each year.
The Institute for Academic Outreach received the Bulldog Award for its effort to generate revenue, increase enrollment and expand Truman's public profile. The Institute inherited the Joseph Baldwin Academy and Taiwan at Truman and has extensively developed and grown both programs. Its outreach to the K-12 community is significant, promoting and growing the University's enrollment activities in high schools, online and on-ground professional development courses for teachers.
The
Points of Excellence
awards were also handed out at the Aug. 15 ceremony. Staff who received the honor typically demonstrate innovation, diversity, acts of service to both the community and students, Truman values and an excellent work performance. Recipients included: Lana Bogart, School of Business; Ron Collinge, Public Safety; Janes Dreamweaver, Student Recreation Center; Beth Oberman, Information Technology Services; Joyce Schmitz, Classical and Modern Languages and Brad Turnball, Multicultural Affairs.
Lastly, The
Mark and Robin Gambaiana Purple Pride Award
was presented to Bethany Gibson based on her exemplary service to many departments at Truman. Gibson received several nominations for this award, praising both her work in her current position in the Academic Affairs Office and her prior position in the Advancement Office.
The Bulldog Award, Points of Excellence and Mark and Robin Gambaiana Purple Pride Award are presented yearly based on staff nominations. Nomination forms can be found
here
.