Internship Helps Children in Need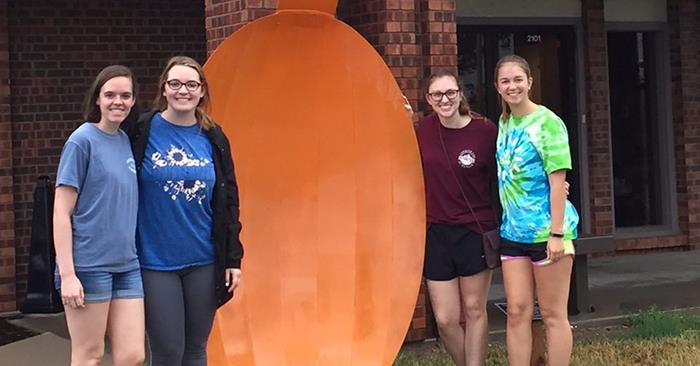 Truman students, from left, Kaitlin Roberts, Emily Schefler, Mackenzie Snyder and Valerie Hagedorn oversaw the Food 4 Kids program in Kirksville this summer.
Internships are important. They teach students valuable skills, and interns often get to contribute to something larger than themselves. In the case of four Truman students, it is hard to imagine their internships carrying any more weight than they did. If these interns did not fulfill their duties every day, hungry children would not get to eat. The students – Kaitlin Roberts, Valerie Hagedorn, Emily Schaeffler and Mackenzie Snyder – oversaw the Food 4 Kids program in Kirksville this summer.
A joint effort of the Food Bank for Central and Northeast Missouri, the USDA and the City of Kirksville, along with several local churches and volunteer groups, the Food 4 Kids program strives to ensure as many kids as possible have regular access to adequate amounts of nutritious food during the summer.
Truman interns have been contributing to the Food 4 Kids program for the last seven years, ever since Rebecca Zimmer, lecturer in psychology, took on the responsibilities of co-director. Zimmer, along with Cheryl Dorrell of the Kirksville School District, coordinates serving lunches in local parks every weekday during the summer. With the responsibility of more than 3,000 meals each year, and a family of her own to take care of as well, Zimmer turned to Truman students to help. After starting with one intern, she now regularly employees four each summer.
"That team makes it possible for the program to run more smoothly," she said. "I always tell students that the wonderful thing about this program is that by week two I step out. I'm always available for any challenges, but they have to make sure it happens every day."
Zimmer and Dorrell take turns supervising the interns, but the students are responsible for everything from meal prep, paperwork and volunteer logistics to coordinating with the Food Bank in Columbia.
"That's really how you learn, with real experience. Every day there are 50 to 100 kids depending on them," Zimmer said. "For some of them, it's a new sense of purpose and direction."
Roberts, a health science major, is the only student participating in the internship for credit. She serves as the project manager and her work is more behind the scenes than the other three, each of whom are responsible for meal distribution in one park. Roberts hopes to parlay her experience into a similar career in the future,
"For me, it's been more of a professional growth experience," she said.
Each intern has her own reason for volunteering for the program. One in five children in Adair County under the age of 18 is food insecure. For Snyder, the issue hits close to home. As a child, she witnessed her friend growing up in a household without food security.
"I was already passionate about what Food 4 Kids was trying to do in the Kirksville community, and I really wanted to get involved just to kind of see the other side of things and help out with something that I witnessed growing up that I didn't have the power to do anything about at the time," Snyder said.
An English and pre-MAE student, Schaeffler signed on to the Food 4 Kids program in an effort to get more experience with children outside of the classroom. She has learned firsthand how factors such as food insecurity and poverty can play a role in a child's behavior.
"In my education classes, you learn the logistics, and you learn the basics of it, but to see it from the emotional side too, it's like a new perspective. It's really helpful, and that sometimes can get lost on teachers," Schaeffler said. "The kids pick up on when they are treated like regular people. Kids see that and in turn are more willing to open up to you and listen to you more."
For someone who enjoys children and serving others, the internship sounded like an ideal fit for Hagedorn. She quickly got to know the kids who frequented her park and feels they showed up regularly for the social aspects as much as the food. While the nutritional component of the Foods 4 Kids program should not be overlooked, the psychological and social benefits are just as important.
"The kids are not just there to eat lunch, they really enjoy interacting with adult figures," she said.
Those unfamiliar with the Food 4 Kids program might assume the hour a day the volunteers are in the park would be a despondent time, but it is actually quite the contrary.
"In addition to the meals, the interns' job is really to create a positive and playful tone in the park," Zimmer said. "We want this to be a positive environment where the kids can be a little less structured and get positive attention where somebody knows them and greets them by name."
By making a connection with the children and families the interns serve in the park, they are helping to erase a stigma about individuals in poverty.
"That was the biggest eye opener for me," Snyder said. "Coming in I thought these kids were going to be so guarded, and I was really worried about the type of emotions I was going to see. I came in and all of the kids are so willing to have a positive attitude, and they are so compassionate. It's definitely taught me to interact with them as people and view them as people first, not view them as children living in poverty. If you go in to an interaction with them with the mindset of viewing them as a person you get a much better interaction. They are a lot more willing to open up, and you are much more able to form a relationship."
Anyone interested in participating in the Food 4 Kids internship for next summer can contact Zimmer at
rzimmer@truman.edu
.