Alumnus to Present in Ofstad Reading Series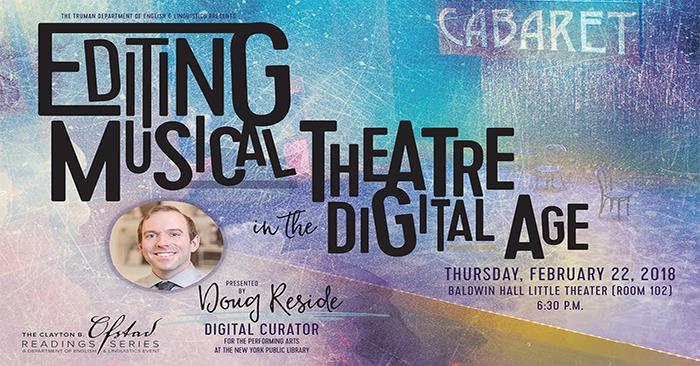 Ofstad visiting writer and alumnus Doug Reside will present "Editing Musical Theatre in the Digital Age" at 6:30 p.m. Feb. 22 in Baldwin Hall Little Theatre as a part of the Clayton B. Ofstad Reading series.
Reside graduated from Truman in 2001 with a Bachelor of Arts in English and a Bachelor of Science in computer science. He earned his master's degree from Truman and Ph.D. from the University of Kentucky, both in English. Since 2011, Reside has served as New York Public Library's digital curator for the performing arts. In this position, he has initiated, created and overseen a number of digital archive and access projects. Reside also served as product owner for the library's digital repository, where his leadership helped advance the work of the repository and related services such as the metadata management system and importing data from other bibliographic tools.
Sponsored by the Department of English and Linguistics, this presentation is free and open to the public.
Due to the generosity and vision of Odessa Ofstad in creating the Clayton B. Ofstad Endowed Chair in English and Linguistics, the Department of English and Linguistics is able to offer a range of intensive seminars, masterclasses and workshops in creative writing, English and linguistics led by guest writers and scholars. Along with these classes, the Clayton B. Ofstad Reading Series, which features these guests, has become a centerpiece of departmental and campus culture.