Celebrating 150: The Presidents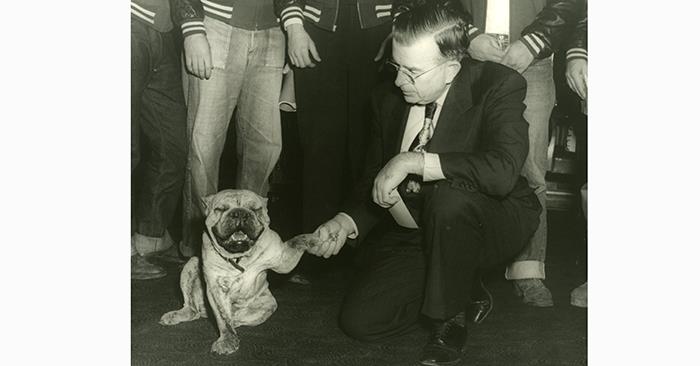 President Ryle shakes with a bulldog. At 30 years, Ryle's presidency is the longest in the history of the University. Photo courtesy of the Pickler Memorial Library Special Collections Department.
In its 150-year history, the University has been fortunate to have consistent, steady leadership. Including interims, a total of 17 individuals have served in the role of president. While many of their names are familiar thanks to campus landmarks, their stories can sometimes be overlooked.
John R. Kirk holds the distinction of having two buildings named in his honor, but probably few people realize he was the first alumnus to lead the University. As a student, Kirk worked as a secretary to president Joseph Baldwin in order to pay for his education and support his family. An attorney before his own presidency, all six of Kirk's children graduated from the University.
When Eugene Fair succeeded Kirk in 1925 he became the first Missouri native to take on the role. Fair was politically active most of his adult life and in 1920 ran for the Missouri House of Representatives. He won the election and served as Adair County's representative to the general assembly while continuing his position at the college. Fair also holds another distinction as the first University president to pass away while in office. He died after suffering a stroke at a speaking engagement in St. Louis.
William P. Nason and Joseph P. Blanton shared more than just a middle initial. Nason, a South Carolinian, and Blanton, who hailed from Virginia, were the second and third presidents, respectively. Forever linked as two-thirds of the trifecta in Blanton-Nason-Brewer Hall, the two men have one last, grim connection in that they both passed away in 1909.
Not all presidential connections are of the somber variety. Founder Joseph Baldwin and current president Sue Thomas are both natives of Pennsylvania and together form Keystone State bookends of University leaders. Presidents Robert Dager and Troy Paino share a Hoosier heritage, while another five represent the Show-Me State. The unofficial alumni club of graduates who have served in the top post is smaller still with only four members.
Baldwin is not the only University president to create an institution of higher learning. Charles McClain founded Jefferson College in Hillsboro, Mo., in 1963, and after his time in Kirksville he went on to serve as Missouri's commissioner of higher education.
For a full 20 percent of the University's history, Walter H. Ryle III held sway over campus. His tenure of 30 years is more than the combined terms of Nason, Paino, F. Clark Elkins, Eli F. Mittler, Russell Warren, W. Jack Magruder, Barbara B. Dixon and Darrell W. Krueger. To be fair, that list does include three of the four presidents who served exclusively in an interim capacity.
It is not uncommon for University presidents to have a legal background, but only one can boast of being both an attorney and a medical doctor. William D. Dobson studied law for two years and was admitted to the bar in 1872. After resigning his presidency in 1899, he enrolled in the American School of Osteopathy across town, today known as A.T. Still University. He earned his Doctor of Osteopathy in 1902 and following four years on the ASO faculty moved to St. Louis to open his own medical practice.
Magruder might not have been a medical doctor, but he too has ties to both Kirksville institutions of higher education. Having served as president of Truman and ATSU he has been honored with emeritus status from both universities.
Pickler Memorial Library Special Collections Department has more information about the University presidents available online at
library.truman.edu/archives/presidents.asp
.