Justice Systems Course Gives Students Hands-On Opportunities to Serve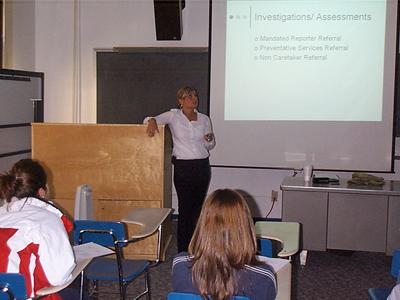 Cammie Caldwell ('05) talks to students during a recent Contemporary Correctional Treatment Methods class.

Service learning constitutes an important component of Truman's Contemporary Correctional Treatment Methods class (JUST 401), which is part of the University's justice systems program. The course, taught by Lynn VanDolah, instructor in justice systems, provides students with an introduction and overview of the treatment modalities currently utilized in the field of corrections. Issues unique to a broad range of involuntary
clients are also addressed.
Alumna Cammie Caldwell ('05), who works as a child abuse investigator with the Cole County Children's Division in Jefferson City, Mo., recently talked to students in the course about the role of the investigator, and the types of cases she is assigned. Caldwell is also working with a group of students in the class who are developing a psycho-educational intervention to assist the children and families who have been referred to the agency.