Saxophone Composition to Premiere at Truman State University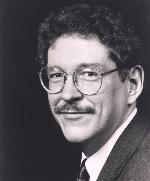 Eric Ewazen
Randall Smith, professor of saxophone at Truman State University, and the Truman Wind Symphony, Daniel Peterson conductor, will give the world premiere performance of "Fantasia for Alto Saxophone and Band" at 3 p.m. Sept. 30 in Baldwin Auditorium. The composition was written for Smith and the Wind Symphony by Eric Ewazen, professor of composition at the Juilliard School of Music.
Smith contacted Ewazen more than two years ago and asked him if he would write a piece for alto saxophone and band. Ewazen enthusiastically agreed to the commission and set a fee of $5,000. Smith and Truman's Advancement Office began a fund-raising campaign in July to cover the expense of the composition and the world premiere. Individuals and organizations who have already contributed at least $50 will have their names listed on the inside cover of the score. Thanks to the generous contributions of Smith's former students, colleagues and friends, more than $4,000 has been raised to date. Contributions in the form of a check can be sent to the Advancement Office, McClain Hall 100, 100 E. Normal, Truman State University, Kirksville, MO 63501 with "Saxophone Fund" noted in the memo.
Ewazen was born in 1954 in Cleveland, Ohio. Receiving a B.M. at the Eastman School of Music, and M.M. and D.M.A. degrees from The Juilliard School, his teachers include Milton Babbitt, Samuel Adler, Warren Benson, Joseph Schwantner and Gunther Schuller. He is a recipient of numerous composition awards and prizes. His works have been commissioned and performed by many soloists, chamber ensembles and orchestras in the United States and overseas. Concerning Ewazen's compositional style, one author wrote in
The Star Ledger
- May 17, 1993: "But Mozart also lost out to Eric Ewazen, a composer on the faculty of The Juilliard School. He does not feel it is a 'sell-out' to write music which contains (gasp) triadic harmony and (double gasp) real melodies. Having taken such a 'populist' turn, he manipulates his materials so artfully, shows such an understanding of compositional development that not for one moment does his 'Quintet' pander."
Smith has taught at Truman for 19 years and has six other compositions dedicated to him. Supporting the creation of new music for the saxophone is an important goal of his life. Art music has been composed for centuries and continues to composed for a variety of reasons, but often a performer commissions a composer to write a piece and the piece is then dedicated to that performer. The dedication on "Fantasia" reads "To Randall A. Smith, Saxophonist, and the Truman State University Wind Symphony, Daniel L. Peterson, Conductor."
The Truman Wind Symphony, Symphony Orchestra, Brass Choir, Brass Quintet, and faculty soloists will perform the Sept. 30 concert titled "The Music of Eric Ewazen" other compositions by Ewazen. The concert is free and the public is invited to this historic event. For questions contact Smith at 785.4440 or
rsmith@truman.edu
.