Club Basketball Team Provides Aid at Crash
The bonds that come from hours spent together at practice and playing alongside one another in games proved to be beneficial for members of the women's club basketball team when they encountered a potentially tragic accident.
In November, while en route to a tournament in Milwaukee, Wis., five members of the team witnessed an automobile accident on Highway 63, just north of the Missouri-Iowa border. A deer jumped in front of an oncoming vehicle, shattering the windshield and causing the car to swerve before the driver was able to bring it to a stop on the side of the road.
"We all saw the deer hit the car and it instantly looked like a situation that could have caused massive injuries to the passengers in the car," Rachel Meinert said. "It was just our human nature to stop and make sure that the people in the car were OK. We never even considered not stopping."
While the club basketball team typically caravans to tournaments, this was the only car making the trip that witnessed the accident. As luck would have it, four of the five team members had first aid and/or CPR training.
"I don't think there are many other cars that could have had that many individuals who were trained to help in those types of situations," Meinert said. "It also helped that we were all there together and that we already knew how to work as a team."
As they approached the vehicle, the team members did not know what to expect.
"The whole situation looked pretty bad," Mary Kate Hummel said. "The entire front windshield had been popped out and pushed back toward the driver and passenger seats."
An older gentleman emerged from the wrecked vehicle unharmed, but visibly shaken. He asked the students to check on his wife who was unresponsive at the time. He also informed them his wife suffered a stroke within the last year and was confined to a wheelchair.
"My adrenaline was rushing and my mind was working to recall all the specific details on how I should treat these injuries," Hannah Runez said. "It was overwhelming, but it was a great experience. I now feel more prepared if something like this were to happen again."
As Meinert called 9-1-1, Runez made a quick search of their van for anything that might be useful in providing first aid, while Hummel and fellow teammates Madison Thornburg and Bailey Lee immediately went to assist the woman. Although she was originally unresponsive, the woman was soon able to communicate. In addition to a cut on her forehead, she complained of back pain.
After making an assessment of her injuries, the first responders turned their efforts to keeping her calm and not letting her lose consciousness before EMTs could arrive on the scene. Since the accident occurred on an isolated two-lane road, it would be 45 minutes before help could arrive. Meinert used that time to document the situation for the 9-1-1 dispatcher and collect as much information as possible regarding the woman's medical background so paramedics could easily assess her condition when they arrived.
To keep the woman alert while waiting for help, the students asked about everything from her children to her most-recent birthday, as well as her pets and her childhood.
"Everyone just worked together in keeping everyone calm and thinking of questions to ask," Lee said. "We kept telling them that help was on the way and would be there soon. It was a very scary situation, but I'm glad everything turned out to be alright."
Eventually help did arrive, and the students were able to continue on their way. The husband later called to let them know his wife was flown to Iowa City and placed in intensive care, but that she would be alright. He was grateful for their help.
Runez, who graduated from Truman in December, was certified in CPR and first aid because it was a requirement for her exercise science major, and many of the others received their training due to school- or work-related obligations. Regardless of the motivation, they encourage everyone to get basic CPR/first aid training.
"It can be useful for circumstances like these, or even with friends and family when you least expect it," Runez said. "Having basic knowledge can help prevent further injury and prepare someone for unexpected situations."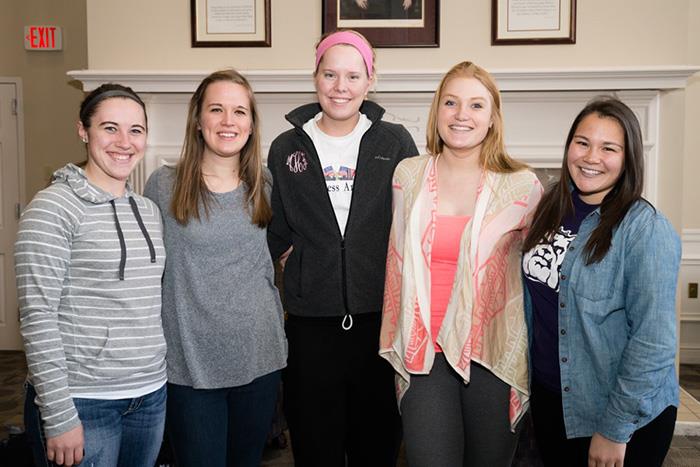 Pictured left to right: Bailey Lee, Rachel Meinert, Mary Kate Hummel, Madison Thornburg and Hannah Runez