Color Guard Participates in NFL Festivities
The Bulldog Battalion's Color Guard was invited to conduct the presentation of colors prior to the nationally televised NFL game Dec. 17 in St. Louis.
Marching to centerfield on the 40-yard line were cadets Kayla Thompson, Brianna McRoberts, Rachel DeMarcantonio, Calvin Colvis and Seth Kmetz to ceremoniously present the national and state flags for the playing of the national anthem by contemporary violinist Bobby Yang. It was a unique experience for the cadets who were invited onto the field to watch pre-game warm ups and take in the sights and sounds of Thursday Night Football. Before kickoff they met a few players and posed for pictures with former Rams Hall of Famer Aeneas Williams and Super Bowl champion Tory Holt. The cadets even had a run-in with comedian Kevin Hart and rapper/actor Ice Cube.
The contest between the St. Louis Rams and the Tampa Bay Buccaneers could possibly have been the last NFL football game the Rams will play in the Edward Jones Dome. It had a special significance to the people of St. Louis who have enjoyed the Ram's presence since the team's move from California prior to the 1995 season.
Truman's ROTC program, under the direction of Lt. Col. Dennis Utt, has been taking steps to increase the programs exposure and also provide cadets with unique opportunities. In mid-November, the Color Guard presented the colors for the St. Louis Blues at the Scottrade Center.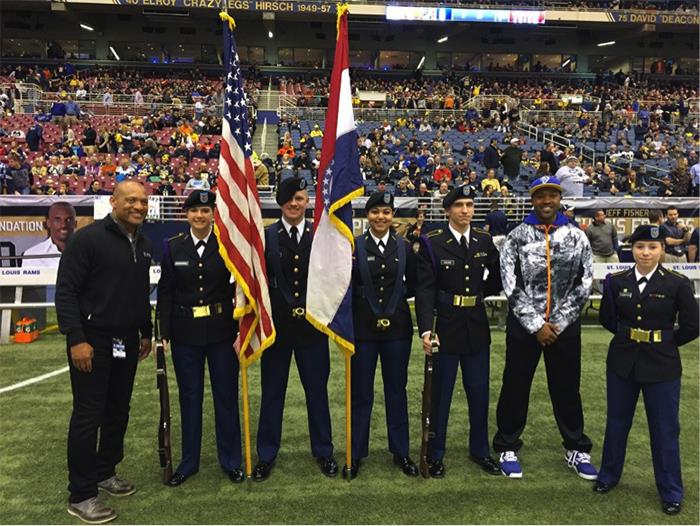 Members of the Truman Color Guard met with NFL Hall of Famer Aeneas Williams and Super Bowl Champion Tory Holt prior to the game. Pictured, from left: Williams, Racheal Demacrantonio, Seth Kmetz, Brianna McRoberts, Calvin Colvis, Holt and Kayla Thompson.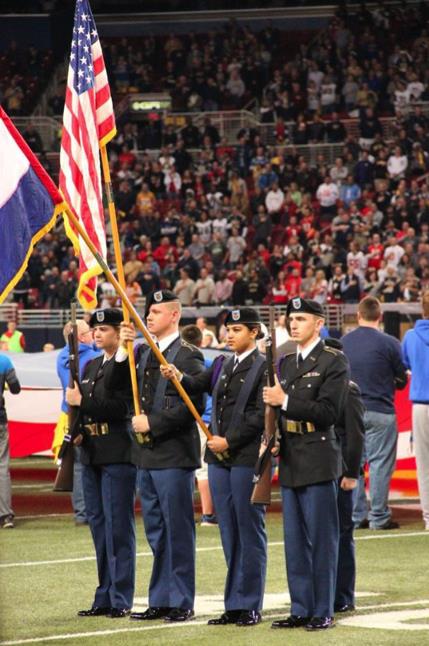 Cadets from Truman's ROTC program present the colors at the Dec. 17 NFL game in St. Louis. Pictured, from left: Racheal Demacrantonio, Seth Kmetz, Brianna McRoberts and Calvin Colvis. Color Guard OIC Kayla Thompson stands behind the cadets.