Student Follows Dreams to Broadway
Theatre has been an important part of junior Seth Betzler's life since middle school, but little did he know what was once an extracurricular activity would turn into a passion that could take him all the way to Broadway.
While looking into internships for this past summer, Betzler knew he was interested working on the management side of theatre. With the help of Truman alumnus John O'Brien ('14) and a strong application, Betzler was accepted for a production management internship with The New York Musical Theatre Festival in New York City.
"Theater is all about the connections you make," Betzler said.
In his summer position, Betzler served as a liaison allowing him to connect with a variety of people in the theatre industry. One interaction really hit home for Betzler. He learned of the all-inclusive Broadway production "Spring Awakening," and immediately was interested in working with the stage management team.
"What makes 'Spring Awakening' so special is that it is a Deaf West Theatre production, which combines hearing and Deaf people to tell a beautiful story," Betzler said. "The show also uses American Sign Language and English simultaneously, making it a more inclusive production."
Growing up with a Deaf mother, Betzler has had regular interactions with the Deaf community. He sent his resume to one of the show affiliates, and before long, he was making plans to extend his stay in New York for a second position, this time on Broadway.
As a production assistant for "Spring Awakening," Betzler tracked scene shifts and props, handled blocking of actors, helped with off stage tracks and dealt directly with line notes.
While being on Broadway was a dream come true, Betzler had a special closeness with the production itself.
"The most rewarding part of the experience was being able to work with the Deaf culture," Betzler said. "I have always been involved with the Deaf culture, but never on such a grand scale."
Looking back, Betzler felt prepared, but knew he had a lot to learn.
"I believe I was as prepared as I could have been because a lot of what stage management entails is learned on the job," Betzler said. "It was helpful that I had worked with the Deaf community and knew some sign language before my work with the production."
Betzler finished his position with the production in late September and has resumed his fall classes at Truman.
"I do believe it will be hard to return because the city is so big and always moving," he said. "Theatre, however, is really the same at its core no matter where you do it."
For Betzler, theatre has always been a family affair. Like his father, a professor of theatre, Betzler hopes to make a career from the art form. He will graduate in May 2017 and plans to return to New York City to find a position in stage management.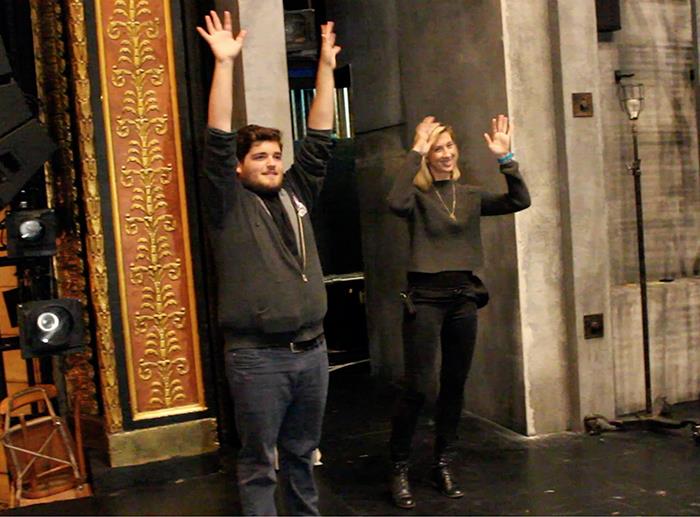 Seth Betzler, left, cheers on the cast of "Spring Awakening."