Homecoming Honorees Announced
Several Truman alumni will be recognized at the Bulldog Forever Celebration Banquet at 6 p.m. Oct. 9 as part of Homecoming 2015.
Alumnus of the Year
— Steve Justice ('70, '81)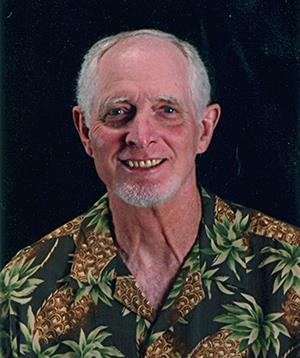 Justice began his teaching career in Des Moines, Iowa in 1971, where he coached football, track and field and cross-country for 12 years. After moving to League City, Texas, just outside of Houston, in 1983, he taught in the Goose Creek Consolidated Independent School District for 21 years. Following his retirement in May 2004 he continued to work part-time in the same school district for the next seven years.
For 28 years, Justice worked as an official with the Drake Relays, returning to Des Moines, Iowa, every spring to help officiate the event. In 2012, he was inducted into the Drake Relays' Officials Wall of Honor.
Since 1985 Justice has worked game operations at Rice University. He has also been involved with game management for Conference USA championships in baseball, football, track and volleyball. He was asked to help with the 2004 Super Bowl in Houston where he had the privilege of working with the sideline television camera crew as part of the security operations.
Justice was a member of the Truman Alumni Board of Directors from 1997-2000, serving as president for the last two years. In 2001, President Jack Magruder appointed him Alumni Ambassador. Steve and his wife Katherine became charter fellows of the Joseph Baldwin Society and are members of the John R. Kirk Society and the President's Circle.
Distinguished Service Award
— Gail B. Crump ('64)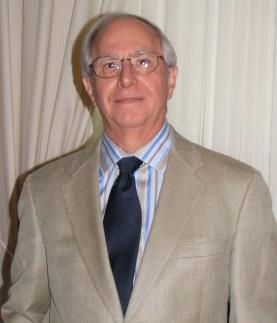 Crump, a Kirksville native, graduated from Truman and continued on to earn a master's degree and Ph.D. from the University of Arkansas. In 1969, he joined the Department of English at the University of Central Missouri in Warrensburg, and taught there until his retirement in 2011.
Crump is the author of "The Novels of Wright Morris: a Critical Interpretation," as well as a number of critical articles. During his career, he served on the editorial board of the D. H. Lawrence Review, edited several issues of the Publications of the Missouri Philological Association and was the fiction editor of Pleiades: A Journal of New Writing. Crump is also a partner in Cave Hollow Press, a small press devoted to publishing original fiction by Midwestern writers.
As a faculty member at UCM, he served as chair of the Department of English and Philosophy, interim chair of the Department of Modern Languages, interim chair of the Department of Geography and Interdisciplinary Studies and associate provost. In 2014, the Service Award of College of Arts, Humanities and Social Sciences at UCM was re-named "The Gail B. Crump Meritorious Service Award" in his honor.
Crump recently served six years on the Truman Foundation Board of Directors. He is a member of both the President's Circle and the Truman Kansas City Alumni Chapter.
Young Alumni of the Year — Jason Turk ('02) and Janeen (Traen) Turk ('00)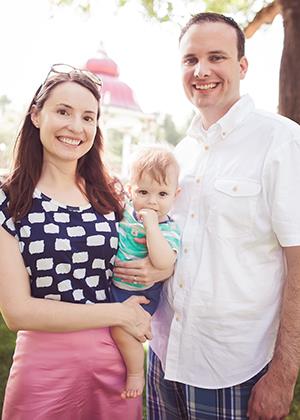 After his time at Truman, Jason attended law school at the University of Missouri-Columbia where he was an editor of the Missouri Law Review. Now a senior associate with the law firm Blitz, Bardgett & Deutsch, L.C., in St. Louis, he focuses on complex commercial litigation. Previously, Jason served as a law clerk at the Missouri Court of Appeals, Eastern District. He was given his first break in the legal world as an intern for the Honorable Mary Rhodes Russell ('80).
Jason was president of the St. Louis Chapter of the Alumni Association from 2010-2015 and has been a member on the Board of Directors of the Alumni Association since 2012. He also serves on the regional committee for the University's capital campaign.
From 2003 to 2015, Janeen worked in the curatorial department of the Saint Louis Art Museum, rising to the position of assistant curator of American Art. In 2015, she served as an onsite curator and contributing author for the multi-venue exhibition and related publication, "Navigating the West: George Caleb Bingham and the River." The show recently concluded its run at the Metropolitan Museum of Art in New York.
Jason and Janeen are members of the University's Kirk Society and reside in St. Louis with their one-year-old son, Michael.
Grand Marshall
— Victor Childers ('55)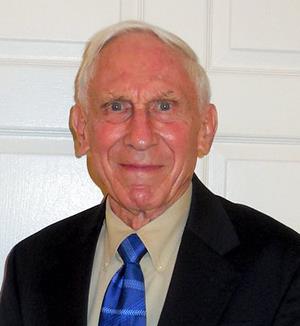 Childers grew up on a farm near Rutledge, Mo., and for several years attended a one-room rural school. After graduating from Truman in 1955, he worked as an accountant and office manager in Kansas City, Kan., and New York City prior to entering graduate studies at Indiana University where he earned MBA and doctoral degrees. Victor and his family lived in Venezuela for a year while he carried out research for his dissertation.
Upon joining the faculty of the Indiana University School of Business in Indianapolis in the fall of 1966, Childers had many unique opportunities abroad. He lived in Dacca, East Pakistan; Bangkok, Thailand; and Caracas, Venezuela, working on various assignments for IU. He also served on the faculty of the Semester at Sea Program for an around-the-world voyage and was given the opportunity to work in Maastricht, Netherlands, as well as Cairo.
Childers has served as a member-at-large of the Truman Alumni Board and was honored in 2004 with an Alumni Distinguished Service Award. He is a member of the University's President's Circle.
Bulldog Forever Volunteer of the Year
— Naomal "Vid" Vidyasagara ('92)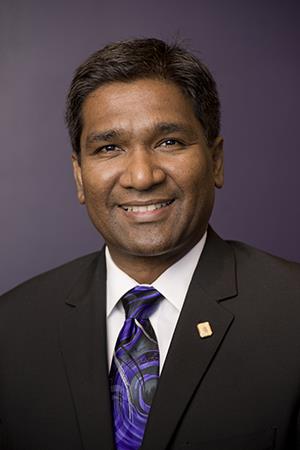 Vidyasagara came to Truman from Sri Lanka. As a student, he was president of the International Club and was a member of Student Senate. He was also a resident advisor in Missouri Hall and worked as a counselor for the Upward Bound program.
After receiving his bachelor's degree in computer science, Vidyasagara went on to earn an MBA from the University of Illinois at Champaign-Urbana. Currently, he is a manager in information technology working for Honeywell Aerospace.
The president of the Arizona Alumni Chapter, Vidyasagara and his wife, Pasanthi, whom he met while at Truman, reside in Phoenix.
Athletics Hall of Fame — Emily Huyck ('01) and Merrick Meyer ('05)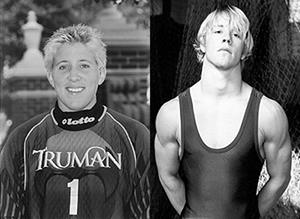 Two Bulldog national standouts, Emily Huyck, women's soccer, and Merrick Meyer, wrestling, will join the Truman Athletics Hall of Fame as part of the 2015 Induction Class.
This year, the Hall of Fame was split between two different weekends to allow soccer teams to be present for Huyck. A banquet took place Oct. 3 to celebrate Huyck's induction. Meyer will be inducted as part of the Bulldog Forever Celebration Banquet at 6 p.m. Oct. 9.
Huyck was a two-time Mid-America Intercollegiate Athletics Association Most Valuable Player and a three-time, first-team all-conference goalkeeper for the Bulldogs from 1998-2001. She set a school record of 43 shutouts and currently has the ninth longest shutout streak in Division II. She was 21-1 in the first three years of women's soccer in the MIAA while the Bulldogs began a dynasty of winning seven straight league titles from 1999-2005.
During her senior season in 2001, Huyck became the first keeper in Truman history to earn All-American honors as she garnered National Soccer Coaches Association of America second-team honors while leading the Bulldogs to an 18-3 record and the NCAA National Quarterfinals.
Huyck is currently the director of the Montessori Co-op School in Omaha, Neb., and continues her involvement with soccer by coaching various ages at the club level and running her own introduction to soccer/skills camp for younger children.
Meyer was the 141-pound NCAA Division II national champion in 2004, joining only Curd Alexander (1968) as Truman wrestlers to win individual titles. Meyer was a two-time All-American, in 2003 and 2004, a four-time national qualifier and owns the Bulldog all-time career wins record with 130. He averaged more than 32 wins a season with a high of 34 in 2005.
Meyer's college career record was 130-26 with more than half his victories resulting in bonus match points. He never lost a home match in Pershing Arena and placed in every college tournament in which he competed.
After graduating Meyer joined The Boeing Company where he works in the International Business Finance Office. He returns to Truman every year with members of the Boeing team to talk about his college experience and recruit college graduates.
More detailed biographies for the 2015 Homecoming honorees can be accessed below.
Alumni of the Year
: Steve Justice ('70, '81)
Distinguished Service Award
: Dr. Gail Crump ('64)
Young Alumni of the Year
: Jason Turk ('02) and Janeen (Traen) Turk ('00)
Homecoming Parade Grand Marshal
: Victor Childers ('55)
Athletics Hall of Fame 2015 Inductees
: Emily Huyck ('01) and Merrick Meyer ('05)
Bulldog Forever Volunteer of the Year
: Naomal "Vid" Vidyasagara ('92)
The award for the Alumni Chapter of the Year will be announced at the banquet.
More information on each of these awards, past recipients and how to nominate someone can be found at
truman.edu/alumni-donors/awards-recognition/
, or contact
bulldogforever2@truman.edu
. To purchase banquet tickets, visit the online
Alumni Store
.