Open Houses Scheduled to Showcase Agave Blossom 50 Years in the Making
In anticipation of the blooming of Truman's Agave Americana plant, the greenhouse will host open houses from 4-6 p.m. May 8, 15 and 22. It is located at the south end of Magruder Hall on Patterson Street. Guests are asked to enter the through the west door, near the loading dock. If raining, guest may enter through Magruder Hall 2034. Tours for larger groups will be available by appointment. To schedule a tour, contact Elisabeth Hooper at
lhooper@truman.edu
or Jenna Canfield at
jcanfield@truman.edu
.
Around mid-March, several student workers noticed something strange peeking over the tallest leaves of the more than 6-foot-tall agave plant growing in Truman's greenhouse
Today, a nearly 20-foot stalk towers over the plant and reaches out through the roof of the greenhouse. No, the greenhouse staff has not planted magic beans—instead, campus is being treated to the final stage of the Agave Americana's 50-year life cycle.
The plant's entire life has been leading up to this moment, where it sends a stalk shooting up more than 20 feet into the sky so that it can flower and produce seeds. After the plant finishes its flowering cycle it will soon die.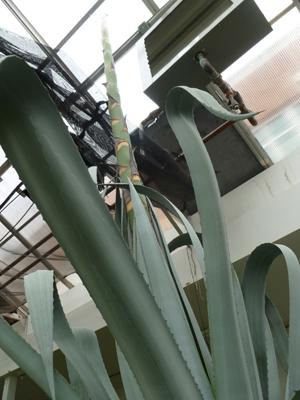 The agave's stalk grew more than 10 feet in a month, requiring a ceiling panel of the greenhouse be removed to give it space to grow.


Originally from the dry region of central Mexico, the tall stalk was needed to help agaves spread their seeds over great distances. The lifespan of an average agave can range from 25-80 years with most agave, and all Agave Americana, being monocarpic, meaning they only flower once in their lifetimes.
The agave has fascinated humans for centuries, who have found many uses for the prehistoric-looking plant. Today, agaves are often sought out for their aesthetic appeal and are grown ornamentally in gardens across the country.
This is what most likely brought Truman's agave to the campus greenhouse. While the full history of the plant is unknown, an anecdotal history exists through the stories of Truman staff and faculty. Some can remember the plant being fairly large when it was first moved to the greenhouse around 30 years ago.
Regardless of how the agave arrived on campus, it cannot be denied that is quite a sight. While it is around 20 feet tall, the plant could reach even greater heights. Elisabeth Hooper, associate professor of biology, speculates that the plant will still have a couple more weeks of growing before it reaches full bloom in the upcoming month.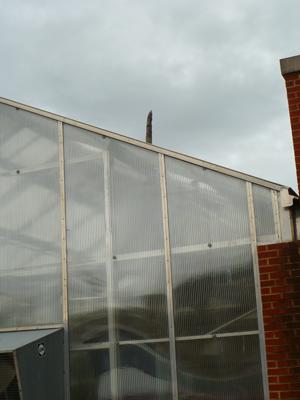 Passersby can catch a glimpse of the agave protruding from the greenhouse.

Although this flowering means the end of this plant's life, the greenhouse staff hopes to continue to grow agaves by replanting small offshoots, called pups, that sprout up around the mother plant.
In nature, agaves thrive in open and dry conditions, but they also make good houseplants that require minimal care. Members of the public can keep their own piece of this historic moment by looking for the plant's pups at the next campus plant sale.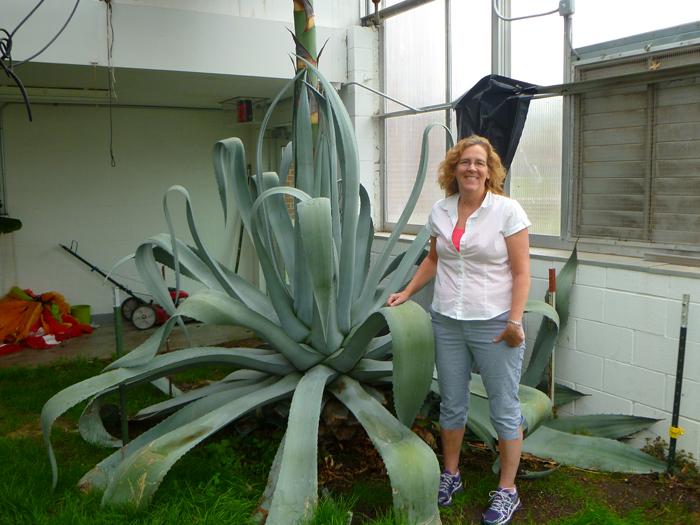 Elisabeth Hooper, associate professor of biology, stands alongside Truman's agave plant.