Business Students Awarded $10,000 Grant
Three Truman students received the Robert L. Gould Scholastic Award and a $10,000 grant at a ceremony in Kansas City, Mo., April 23.
Julian Fung, Lasse Fuss and Tommy Ng were acknowledged for their paper about the future of the wealth management industry in regards to disruptive media, the new generation and changing service models.
The group was first made aware of this opportunity through the School of Business and decided to enter with the encouragement of Chuck Boughton, instructor of business administration. The paper itself was the product of a semester of work, starting with brainstorming in October and continuing through the University's internal selection process in December. From there, the paper was revised with the help of Boughton, Deb Kerby, dean of the School of Business, and Paul Fellows, associate professor of business administration. Once submitted, Fung, Fuss and Ng were notified that their paper was among the top three and they were invited to the awards ceremony.
The three said that while the project was time consuming, they all feel as if they benefited from working together and were able to share information and ideas.
Fung is a junior business administration and computer science major. He hopes to use his knowledge and research to make an impact on society in the future. He plans to invest the majority of his award money and spend the rest on his loved ones.
Fuss is studying behavioral economics as an interdisciplinary major. He is interested in the intersection of psychology and businesses/economics. He hopes to apply academic research in behavioral science to a variety of settings. He plans to use his award money to travel and explore the world and invest the rest.
Ng is senior business administration and economics major. He aspires to be an entrepreneur and one-day work in Silicon Valley. His goal is to create a groundbreaking business model that can significantly impact society in a positive way. He plans to save and invest most of his award money. In light of the major earthquake in Nepal, he also plans to donate part of the award to support Nepalese students at Truman.
The award is sponsored by DST, a global provider of strategic data management and is named in honor of Robert Gould, company president from 1984-1987. The purpose of the award is to recognize outstanding students interested in the financial services industry. This year, Truman students competed against students from Avila University, the University of Kansas, Rockhurst University and the University of Missouri-Kansas City.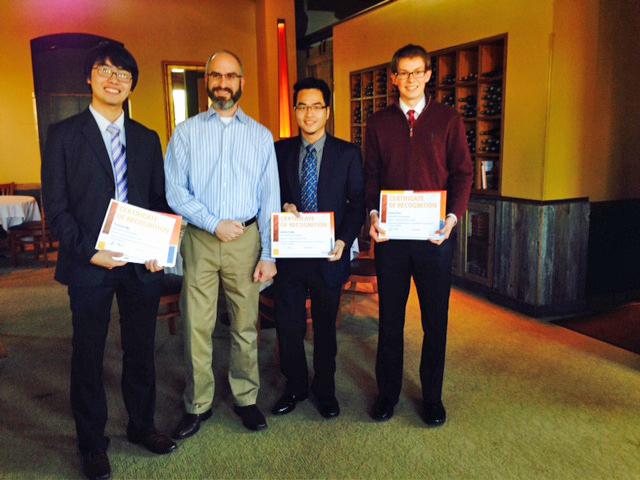 Truman students Julian Fung, Lasse Fuss and Tommy Ng receive the Robert L. Gould Scholastic Award from a representative of DST, a global provider of strategic data management. Pictured, from left, Ng, the DST representative, Fung and Fuss.