Peace Corps Recognizes Truman as a Top School
Truman's 14 alumni currently serving in the Peace Corps have helped land a spot on the agency's annual list of top schools.
Since the creation of the Peace Corps in 1961, more than 200 Truman graduates have served as volunteers. The Peace Corps ranks its top volunteer-producing schools according to the size of the student body. This year, Truman's 14 volunteers tied the school at No. 19 among Medium Colleges and Universities, classified as having enrollments between 5,000 and 15,000 students.
Truman shared the No. 19 spot with four other schools, including Washington University in St. Louis, which was also the only other Missouri school to make the list in any of the three size-based categories. The entire Peace Corps Top Colleges 2015 rankings can be found online at
files.peacecorps.gov
.
This is the third time overall that Truman has made the Peace Corps rankings. The University is also a partner in the Peace Corps Master's International program, which now includes Truman's Master of Arts in leadership. Individuals in the program typically complete one year of graduate coursework before beginning their Peace Corps assignments. The two-year Peace Corps appointment counts as the required internship experience and tuition is waived during their service.
Later this spring, Truman will host a Peace Corps recruiter to discuss the agency and opportunities available. Starting at 10 a.m. April 1-2, there will be an information table in the Student Union Building, followed by an information session at 3 p.m. April 2 in the Student Union Building Alumni Room.
The Peace Corps sends volunteers abroad to work at the grassroots level to develop sustainable solutions that address challenges in education, health, economic development, agriculture, environment and youth development. Through their service, volunteers gain a unique cultural understanding and a life-long commitment to service that positions them to succeed in today's global economy. Since President John F. Kennedy established the Peace Corps in 1961, nearly 220,000 Americans of all ages have served in 140 countries worldwide. For more information, visit
www.peacecorps.gov
.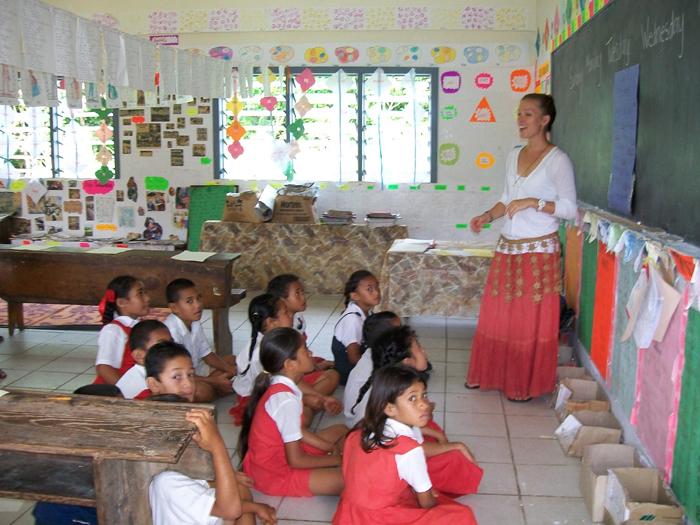 Nora Graves ('10) teaches children the days of the week during her time as an English education volunteer in Tonga.