TruTech Challenge Winners Named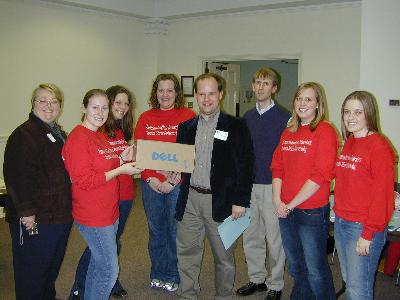 Chad Mohler, TLTR co-chair, presents the members of TSR Communication Disorders student research group with their TruTech Challenge grand prize, a Dell PDA. Paula Cochran, professor of communication and the research group's adviser, is on the far left, and Steve Pennington, manager of the Truman Bookstore, is to Mohler's right.

The Teaching/Learning Technology Roundtable (TLTR) has announced the grand prize winners of the annual TruTech Challenge. Janice Saffir, professor of music, and the Top Secret Research (TSR) Communication Disorders student research group advised by Paula Cochran, professor of communication disorders, took top honors in the competition of faculty, staff and student projects showcasing effective educational uses of technology.
Saffir submitted her demonstration of how a sequencing program could be used to illustrate various elements of musicality.
The TSR group submitted their consulting work in helping to develop software that bookmarks parts of a DVD for in-class use.
Both grand-prize winning projects received personal digital assistants (PDA) donated by Dell.
For their high-quality efforts, all 17 TruTech Challenge participants were awarded $10 gift certificates donated by the Truman Bookstore.
All of the TruTech Challenge projects are publicly viewable at
http://moodle.truman.edu/moodle/course/view.php?id=39
. Click on the "Login as Guest" button to see the projects.
The TruTech Challenge prizes were awarded at Truman's Fourth Annual Technology Fair on the afternoon of the University Conference, Feb. 15. The TLTR sponsored the Fair and the TruTech Challenge.