Classes Work to Assist Food Bank
This semester, students in two of Truman's HLTH150 nutrition courses have partnered with the SERVE Center to raise money for the Food Bank for Central and Northeast Missouri.
The classes divided into 14 small groups, each of which planned a fundraiser as part of a service-learning opportunity. Students began planning events, raffles and donation requests after learning the Food Bank is able to purchase 15 pounds of food for families in need with only one dollar. These student-led projects took place in the past few weeks and culminated during the Big Week of Giving, when the class established donation tables on campus and throughout Kirksville.
The first of these fundraiser events was completed Sept. 13, when one group set up a table display outside the Student Union Building and asked visiting parents and family members to consider donating to the cause. By sharing statistics about hungry families needing help, and how a small donation can make a big impact, the team exceeded their project goal and raised $1,000. Group members spoke with more than 1,000 local and visiting members of the campus community about the role of the Food Bank, and got the class projects off to an exciting start.
Another fundraising project incorporated the help of University President Troy Paino. Raffle tickets were sold, and the lucky winner was able to pie him in the face at the Sept. 27 football game.
There will also be several fundraisers throughout the semester taking place in conjunction with local restaurants. All of the proceeds raised in these projects will be donated directly to the Food Bank for Central and Northeast Missouri.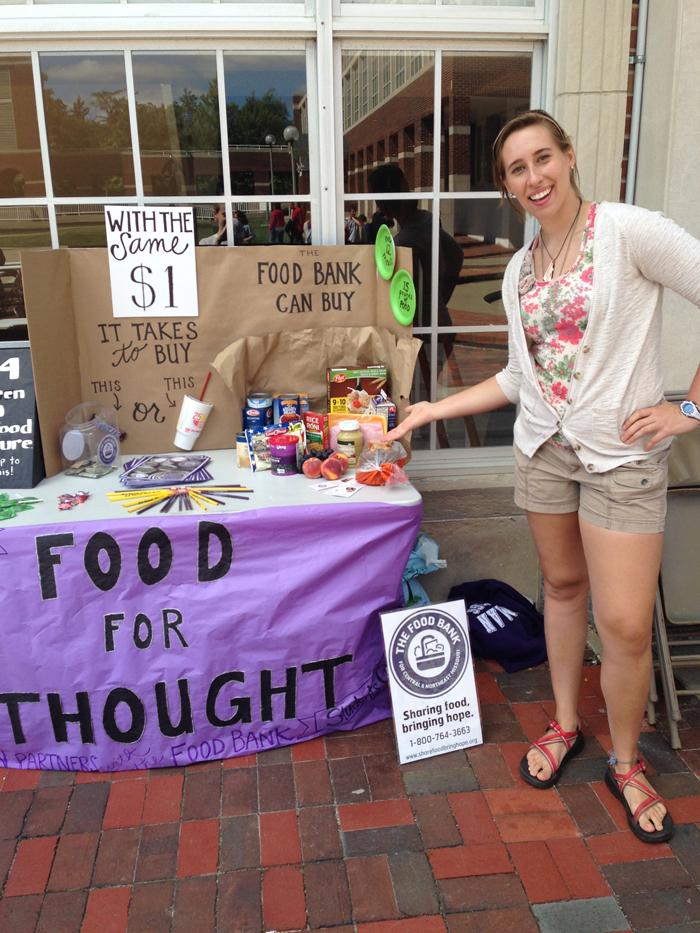 Karina Critten stands by her class project display outside the Student Union Building. On Family Day, Critten's group raised $1,000 in donations for the Food Bank for Central and Northeast Missouri.