Webcam Madness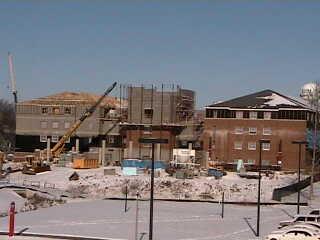 Interested in watching the Magruder Hall construction at warp speed? The web services team is building a "virtual flipbook" of the construction with images pieced together from one of Truman's four campus webcams. Just visit
webcam.truman.edu
beginning Feb 17th to view an animation of the construction from beginning to end.
And while you're there, you can create your own virtual flipbook of the construction on the new residence hall. Click
here
to see the live video, and click the link at the bottom of the page to view past images or create your own time-lapse animation. It's a nice way to watch the snow melt.
Be sure to check out all the Truman webcams at
webcam.truman.edu
. The webcams were funded by the Truman Parents and Residence Life to give moms and dads a taste of their kids' lives away from home. If you're already in Kirksville, it's a great way to check the weather or see the beauty of our campus in all seasons.