Bell to Serve as Bentele-Mallinckrodt Executive in Residence
Wayne Bell, founder/CEO of Really Big Coloring Books (RBCB), the English-speaking world's most dynamic—and at times controversial—coloring book publisher, will serve as the Bentele-Mallinckrodt Executive in Residence at Truman.
Bell will give a campus-wide talk at 3 p.m. Feb. 11 in Violette Hall 1000. He will discuss becoming an entrepreneur and stimulate creative thinking outside the box.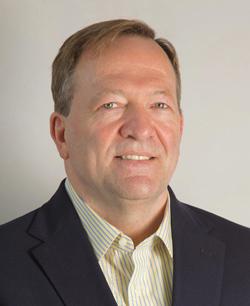 Wayne Bell
Bell began the global business RBCB with the coloring book "Noah and the Ark" in 1981. RBCB now has four divisions: retail, custom, promotional and Internet.
In the years since its founding, Bell's company has become a worldwide trend-setting leader in coloring books. Most of the books are simple. Subjects include trains, dinosaurs, princesses, butterflies, bullying and health, as well as many other great subjects for educators and parents. RBCB also publishes what it terms cultural event coloring books. The first was in 2008 with "Yes We Did" commemorating the election of President Barack Obama. Soon to follow was "The Tea Party Coloring Book for Kids."
The cultural event coloring books can cause public controversy. "The Tea Party Coloring Book for Kids" leaped to No. 1 on Amazon.com for three weeks but also provided fuel for activists. Bell received death threats and kidnapping threats for his role in publishing the book. Coloring books on gay culture, energy use, the Occupy movement and the evils of terrorism, including "We Shall Never Forget—The Kids Book of Freedom" and "The True Faces of Evil Terror," among others, have hit the shelves and Internet.
The most recent cultural event book "Ted Cruz to the Future" depicting the life, values and mission of Texas Sen. Ted Cruz, hit the media Dec. 6, 2013, and sold out within 24 hours. It is now in its sixth printing. The book received immediate praise and rebuke. The Cruz book has been No. 1 at Amazon.com since its debut.
RBCB has been covered by numerous media outlets including CNN, MSNBC, FOX News and Time magazine, and featured on programs such as "Fox & Friends," "The Dr. Drew Show," "The Colbert Report," "TMZ," "The Rachel Maddow Show" and "Hardball."
RBCB's marketing office and production facilities are located in St. Louis, Mo.