Lyceum Continues with "Othello" Feb. 10
Shakespeare's literary play "Othello" takes center stage in the Kohlenberg Lyceum Series Feb. 10 in the Baldwin Auditorium.
The always-popular American Shakespeare Center returns to Truman for the production of "Othello." The vibrant plot and rich language encapsulates Shakespeare's complex study of extremes as the trusting leading man engages with a conniving, ruthless villain in a complex dance of deceit and revenge. The radiant language of love transforms into delirious ravings as his characters descend into jealousy, fear and rage. Both expansive and claustrophobic, "Othello" is Shakespeare at the height of his creative power — a ravishing and unforgettable classic.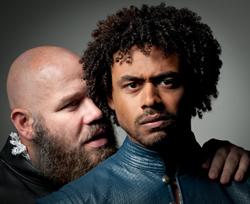 American Shakespeare Center's production of "Othello"
Students can pick up tickets at the Student Activities Board Office in the Student Union. Faculty and staff can pick up free tickets at the information desk located in Student Union. General admittance tickets are $7 and can be picked up at Edna Campbells or the Truman cashier window located in McClain Hall. They can also be purchased online at
lyceum.truman.edu
.
Live music will begin at 7 p.m. with the production to commence at 7:30 p.m.
The next event coming to the Lyceum will the Minnesota Ballet's presentation of "A Midsummer Night's Dream," March 22.