Friedlander Selected as SAB Fall Comedian
The Student Activities Board will host actor, writer and stand-up comedian Judah Friedlander as the Fall Comedian at 7 p.m. Nov. 3 in Baldwin Auditorium.
Best know for his role as Frank Rossitano on the Emmy-winning "30 Rock," Friedlander is known to comics and audiences as one of the funniest and most original stand-up comedians. He has made multiple appearances on many late night talk shows including Letterman, Conan, Jimmy Fallon and "The Daily Show."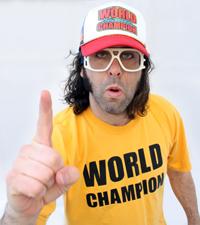 Judah Friedlander
Friedlander was nominated for Best Supporting Actor at the 2003 Independent Spirit Awards for his role in the Sundance-winning "American Splendor." Some of his other movies include "Meet the Parents," "Wet Hot American Summer," "Feast," "Zoolander" and "The Wrestler."
His instructional karate book "How To Beat Up Anybody," is based on his stand-up act.
Doors will open at 6:30 p.m. The event is free for students and $5 for staff and general admission. Tickets are available now in the SAB Office located on the bottom floor of the Student Union Building.