SAB Hosts Award-Winning Author Mezrich
Ben Mezrich, the author behind the movie "The Social Network," will be the Student Activities Board speaker at 8:15 p.m. Nov. 2 in Baldwin Auditorium.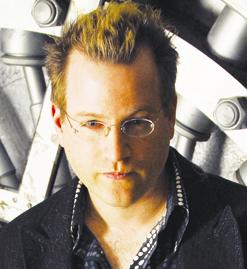 Ben Mezrich


Mezrich has created his own highly addictive genre of nonfiction, chronicling the amazing stories of young geniuses making tons of money on the edge of impossibility, ethics and morality. He has authored 12 books, including the wildly successful "Bringing Down the House: The Inside Story of Six M.I.T. Students Who Took Vegas for Millions," which spent 63 weeks on the New York Times Best-Seller list. His latest book, "The Accidental Billionaires: The Founding of Facebook, a Tale of Sex, Money, Genius and Betrayal," debuted at No. 4 on the New York Times Best-Seller list and spent 18 weeks on the list. The book was adapted into the movie "The Social Network," written by Aaron Sorkin and directed by David Fincher and was No. 1 at the box office for two weeks. It went on to win Golden Globes for best picture, best director, best adapted screenplay and best score. It also received eight Oscar nominations and won three including best adapted screenplay. Mezrich and Sorkin share a prestigious Scripter Award for best adapted screenplay.
Mezrich has appeared often on television, including a stint on Court TV with a series titled "High Stakes with Ben Mezrich." The show utilized his unique contacts to explore the culture of young, highly educated millionaires and their clandestine hobbies. Mezrich also hosted the "World Series of Blackjack" for GSN and has several scripted and non-scripted TV projects in the works.
Tickets are free for students, faculty and staff. General admission tickets are $10. They are available in advance in the SAB Office in the Student Union Building or online at
sab.truman.edu/ticketstore
. They will also be available at the door the night of the event.