Twins Build Their Truman Experience Together
Not many college-level sports teams can boast two athletes who share practically everything—whether in competition or outside of athletics. Enter twin sisters and senior cross-country runners Cindy and Karen Grauel, who have been running and studying together for their last four years at Truman.
Cindy and Karen were originally inspired to come to Truman by their older sister Stephanie, who was studying in Truman's nursing program at the time. While making their decision the Grauels considered several factors. Originally from Macon, Mo., where they ran track and field together, Cindy and Karen were looking for a university where they would have relatively close access to home, but could still continue to compete.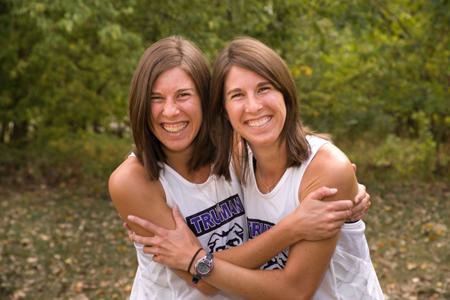 Karen and Cindy Grauel
"We knew from the beginning that we wanted to run in college and Truman helped make that dream happen," Cindy said.
The sisters spend a large portion of their time at Truman together, and have learned how to leverage their relationship to more positively impact their athletic and academic performance. They are both currently working to complete their final year of study in the Justice Systems Department.
"We share the same passion and work ethic for training and competing and are interested in the same things, from our majors and minors to video games," Karen said.
Their ideal plan for the future includes the possibility of entering a career where they can apply their competitive, yet cooperative dynamic to the workplace.
As athletes, the key to Grauel sisters' success lies not only in their friendly rivalry with one another, but also the close bonds they have established with their cross-country teammates. Cindy acknowledges that her and Karen's close connection as siblings could have an affect on team dynamics. However, she believes that the team is stronger as a whole because the team is so accepting and familiar with her and Karen working together.
"They are such an amazing group of girls and I can't imagine either of us doing this sport without them," Cindy said.
Cross-country's regular season concludes at 9 a.m. Nov. 3 in Joplin, Mo., at the 2012 MIAA Women's Cross-Country Regional Championships. This will be Karen and Cindy's last official meet running together as Truman cross-country teammates. Seven individuals from each team are able to participate in the Regional Meet. Depending on individual and team performance, the top three teams and next two individuals advance to the National Meet. For a full listing of women's cross-country meets, visit
trumanbulldogs.com/calendar.aspx
.