Petigna Named Public Relations Intern
The Truman Public Relations Office has chosen Alexandria Petigna, a senior communication major and business administration minor, as intern for the Fall 2012 semester.

Petigna is from Shawnee, Kan., a suburb of Kansas City, and a 2009 graduate of Mill Valley High School. She is the daughter of Alex and Noell Petigna.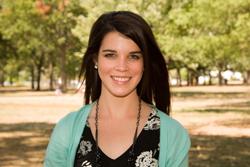 Alexandria Petigna

As intern for the Public Relations Office, Petigna will help write, layout and distribute the University newsletter, Truman Today, on campus and online. She will also assist in planning 2012 Family Day, write press releases and fulfill various office tasks.
Petigna recently arrived back in the U.S. after a semester-long study abroad in New Zealand where she expanded her knowledge of Kiwi culture and explored the captivating New Zealand landscape. She is thrilled to be back at Truman to study, and is ready to continue her involvement around campus. Petigna is a member of Lambda Pi Eta National Communication Honors Society, Alpha Sigma Alpha social sorority and serves as a Zumba instructor at the Student Recreation Center. She previously volunteered as a University student ambassador.
Petigna plans to pursue a career in public relations, advertising or marketing.