Notables
The Center for International Education has announced that
Teresa Borgmeyer
, a student participating in the ISEP program in Murcia, Spain for the 2012-2013 academic year, has been awarded the Rotary Foundation International Scholarship.
Tom Capuano, professor of Spanish
, has been awarded a grant from the National Endowment for the Humanities to participate in the Summer Institute "Networks and Knowledge: Synthesis and Innovation in the Muslim-Christian-Jewish Medieval Mediterranean," taking place in Barcelona, Spain from July 2-27.
Members of Truman's McNair program received recognition at the 34th Annual Missouri-Kansas-Nebraska (MKN) TRiO Conference in Kansas City, Mo., April 5. Current McNair Scholar
Kassi Crocker
, a biology major, was awarded the Mid-America Association of Educational Opportunity Program Personnel (MAEOPP) Board of Directors Scholarship. McNair alumna
Tajanette Sconyers
, currently a graduate student at the University of Missouri, received the MKN Rising TRiO Achiever Scholarship. Another Truman McNair alumnus,
Jas Sullivan
, received the 2012 MKN TRiO Achiever Award. This award recognizes outstanding former TRiO participants for success in their current field. Sullivan graduated from Truman in 1997 with a political science degree. He went on to earn multiple master's degrees from Southern Illinois University and Indiana University. He earned his Ph.D. in political science from Indiana University in 2005. Currently, he is an assistant professor of political science and African and African-American studies at LSU.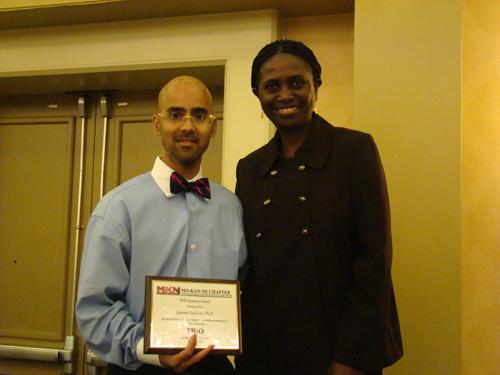 Jas Sullivan with Sylvia Macauley, Truman McNair Program Director

.
Janet Gooch, professor and dean of the School of Health Sciences and Education
, was awarded Honors of the Association at the Missouri Speech-Language-Hearing Association (MSHA) 2012 Annual Convention in Osage Beach, Mo., April 12-15. This award is the highest honor the Association can give. In addition,
Margaret Hilliard
, a communication disorders graduate student, was awarded MSHA Outstanding Graduate Student.
Calli Price
, a justice systems major, has had her review of "Security: An Introduction," written by Philip Purpura, accepted for publication. Price's review will appear in the May edition of Security Journal.