Grad Week Celebrated Statewide
During the week of April 21-28, colleges and universities across the state of Missouri will be celebrating Graduate Education Week, designed to promote continuing education.
Truman will host an open house from 1-5 p.m. April 25 at the Career Center in the Student Union Building, where staff members will be available to help prospective students prepare for graduate school.
Truman offers advanced degrees in nine areas of study, including accounting, biology, bioscience informatics, communication disorders, counseling, education, English, leadership and music. More information on each of Truman's programs is available online at
gradstudies.truman.edu
.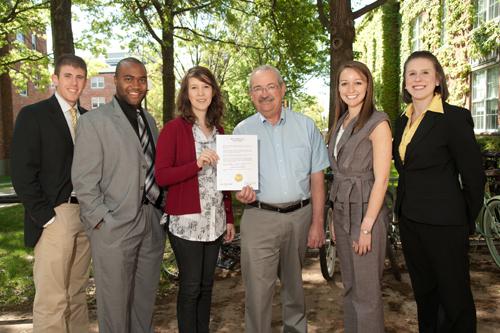 Kirksville Mayor Richard Detweiler presents a proclamation to graduate students supporting Truman's efforts during Graduate Education Week. Truman will host an open house for prospective graduate students from 1-5 p.m. April 25 in the Student Union Building.
Currently, Missouri graduate degree programs, like the ones offered at Truman, are preparing more than 60,900 talented students for leadership in their fields. The goal of Graduate Education Week is to enhance public awareness about the impact and outcomes of graduate education. This year, 20 public and private Missouri institutions have joined forces in this unique public information campaign.