Women Entrepreneurship Week Event Features Alumnae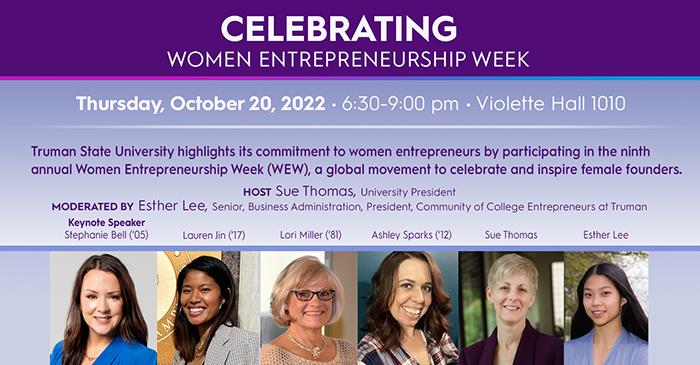 Truman highlights its commitment to women entrepreneurs by participating in the annual Women Entrepreneurship Week (WEW), a global movement to celebrate and inspire female founders.
An event to celebrate women entrepreneurs will take place from 6:30-9 p.m. Oct. 20 in Violette Hall 1010. This event is hosted by President Thomas and moderated by Esther Lee, senior business administration major and president of the Community of College Entrepreneurs on campus. The keynote speaker is Stephanie Bell ('05), with panelists Lauren Jin ('17), Lori Miller ('81) and Ashley Sparks ('12).

Bell co-founded a boutique law firm, Ellinger and Associates, LLC, in 2018, and her practice has grown to include representation of statewide elected officials, proponents of statewide ballot measures and Fortune 100 companies. She and her husband, Chris ('05), purchased The Trolley Company, a popular Jefferson City business that offers historic trolleys for hire for weddings, conferences and other special events. She continues her full-time law practice in addition to her morning radio program.
Jin is a designer and creative based in New York City. She developed her own brand, Gem & Bara, and ran her business until the pandemic forced her to pivot plans. While running Gem & Bara after hours, she worked full-time at New Balance on the Global Creative Studio team. She currently works at Madison Square Garden on the brand creative team for the New York Knicks and the New York Rangers and has her sights set on future entrepreneurial ventures.
Miller is the founder of Precision Printing, a privately owned company serving the printing trade from Moberly, Missouri. Precision was established in 1984 by Miller and her husband, Roy. They help America's Fortune 500 companies promote their products and services with folders, mailers, kits and other packaging.
Sparks is the owner of Rejuvenate Wellness Center that opened in 2012 and RaQStar Dance & Fitness. Her goal as a business owner and as someone who practices multiple healing modalities is to help open the minds of the community members and shine the light on new opportunities to grow, heal and calm their minds and bodies.
Students will have the opportunity to meet and interact with a number of inspirational women about their entrepreneurial journeys. After presentations, the panelists will have a question-and-answer session. These events are open to all students, parents, faculty, staff and friends of Truman.