First Book Donates New Books to Local Head Start Programs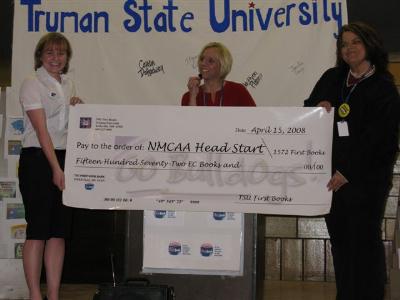 NMCAA Head Start director Rebecca Rollins (right) accepts the First Book donation check from Caitlin DuHadway (left), First Book-Truman State University Advisory Board chair.

First Book-Truman State University provided 1,572 brand new books to children enrolled in local Head Start programs April 15. The children and their families attended a literacy fair sponsored by the organization and the Northeast Missouri Community Action Agency. Each child received a bundle of eight or nine books, all provided at no cost to the families or centers.
First Book-Truman State University works to promote and facilitate the distribution of new books to children of literacy programs in the Kirksville area. The organization, which includes Truman students and faculty, is part of First Book's national network of volunteer-led Advisory Boards who provide new books to children in need in communities across the country.
First Book is a nonprofit organization with a single mission: to give children from low-income families the opportunity to read and own their first new books. In neighborhoods across the country, First Book Advisory Boards unite leaders from all sectors of the community to provide books to children in literacy programs, shelters for battered children, housing project initiatives, soup kitchens, after-school programs and other community-based efforts reaching children living at or below the poverty line. Since its inception in 1992, First Book has distributed more than 50 million new books to children in need in hundreds of communities nationwide.
For more information about First Book, or to make a donation to help children in need, visit
http://www.firstbook.org
.