Olsen and Mohler Receive Innovation Awards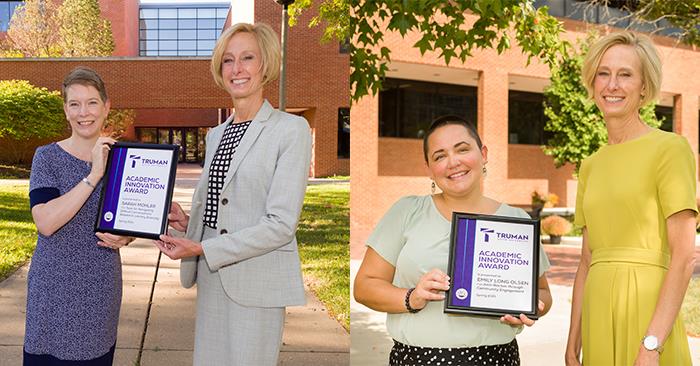 Sarah Mohler (left) and Emily Long Olsen (right) accept their Academic Innovation Awards from Janet Gooch, executive vice president for academic affairs and provost.

Sarah Mohler, assistant professor of English and director of graduate studies, and Emily Long Olsen, assistant professor of linguistics, each earned the Spring 2021 Academic Innovation Award.
Mohler was recognized for "
Tools for Navigating Difficult Conversations Related to Literary Diversity
." Many students in her ENG 415: "Literature for Children" class are future teachers, librarians and speech therapists who hope to introduce diverse literary texts to children and may need to have difficult conversations with those who disagree with their selection of books. Mohler introduced her students to Douglas Stone's concept of the three unspoken undercurrents of an uncomfortable conversation in order to give them confidence to not shut down conversations about sensitive topics and provide them with the tools needed to engage empathetically and productively in conversations with colleagues, parents or members of the community who question their selection of diverse books representing the LGBTQIA+ experience.
Olsen was recognized for her course, "
Anti-Racism through Community Engagement
." The topic of this course was motivated by current events and Truman's campus-wide commitment for racial equity and institutional change. As a class, they determined a strategy to target the Truman community with a message of linguistic justice but creating four groups and identifying their unique role in campus culture. Students then then developed anti-racism training materials and delivered them in the format of a workshop to teach their group about Black English, walk them through a hands-on activity and offer suggestions and advice for steps they can take in their daily life at Truman to support the advancement of anti-racism on campus.