The Kohlenberg Lyceum Series Presents the Peking Acrobats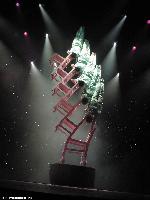 Peking Acrobats

The Peking Acrobats, a troupe of China's most gifted tumblers, contortionists, jugglers, cyclists and gymnasts complemented by live musicians playing traditional Chinese instruments will bring their 2,000-year-old tradition of acrobatics to Truman at 7:30 p.m. Feb. 16 in Baldwin Auditorium as the next Kohlenberg Lyceum Series performance.
Because of the unusual and difficult nature of the feats involved, high honor is conferred upon those skilled enough to become acrobats; an acrobat can be considered the Chinese equivalent of an American opera star. Generations of families carry on this highly acclaimed tradition. Children begin training at a young age and adhere to a rigorous training schedule which they follow the rest of their lives. Only the best acrobats find themselves members of an elite world-touring troupe such as the Peking Acrobats.
For centuries, dating back to the Ch'in Dynasty (221 B.C.-207 B.C.), Chinese acrobats have continued to perfect an evolving folk art form. Tradition demands that each generation of acrobats add its own improvements and embellishments. Each new movement or action takes many years to practice and perfect.
A performance by the Peking Acrobats, therefore, brings with it the opportunity to view the epitome of a rich and ancient folk art tradition in addition to the pageantry and spectacle of the modern Chinese Circus. The Chinese acrobatic tradition has become even stronger due to the continued innovation of the artists and their adoring public. These acrobats have traveled all across the world, performed to packed houses and have been featured in many television shows as well as the popular "Ocean's 11" movie series. Those who have seen the Peking Acrobats on any of their previous tours can be assured that they will see new, exciting acts and new twists to their old favorites.
Seating is general admission. Admission is free for students, faculty and staff with their University ID. Tickets will be available beginning Feb. 8. Students will be able pick up tickets at the Student Activities Board Office, first floor of the Student Union Building. Faculty and staff will be able to pick up tickets at the Center for Student Involvement, first floor of the Student Union Building.
The University requests that all patrons be seated five minutes prior to the performance. The University reserves the right to fill all seats, reserved and general admission, five minutes before the time of performance stated on the ticket. No refunds will be given.
Contact the Public Relations Office at 785.4016 for more information or log on to
http://lyceum.truman.edu
.